[**GiT yALLz Food!!!** Ah yes! Welcome to another Dynamic Dissection, I had a lot of fun researching into many different ideas on these bois! If you don't ship them that 100% okay! Also as always Feel free to correct me on anything and lemme know your thoughts! Enjoy!]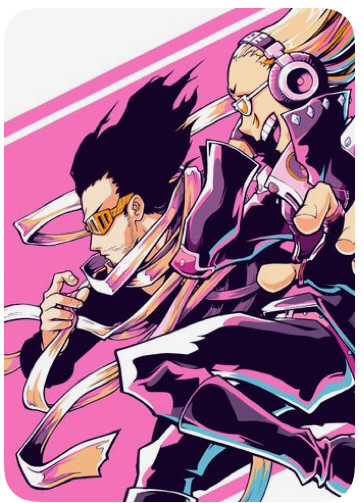 Discussion Points:
•General Relationship
•Deeper Dive!
•Shipping material?
•Random Opinions
On the whole these guys seem to have a good relationship despite having polar opposite personalities. Although Mic may be loud and annoying Aizawa hasn't really gotten angry at him for it and Mic seems used to Aizawa's cold attitude. Though many think their friendship/relationship is one sided, I beg to friggin differ!!! Though his care towards Mic isn't as explicit, Aizawa has made sure to keep Mic out of unnecessary trouble, for instance when the reporters in s1 are pressuring the pair to bring out All Might, Mic considers beating them up and Aizawa stops his irrational thought by saying don't "they'll write half truths about you" not only is this a obvious good decision but it also shows that Aizawa is being considerate of Mics reputation because unlike himself Mic has a public reputation he needs to keep up. Similarly Mic is considerate of Aizawa's Sleep, for those of you who didn't already: Aizawa is a teacher during the day, and fights criminals at night, which is why he's so goddamn tired [F to pay respecc for his sleep schedule]. In s2, when they're having a break during the cultural sports festival, Mic suggest they go get food but Aizawa naturally just naps, Mic doesn't further question it, he's annoyed for sure but he doesn't keep insisting on it. These basic and *Subtle* kind acts they do for each other imply that there is a deeper bond the pair have. Now let's talk about that **Deeper underlying bond** and where it comes from [Spoilers ahead BrUh].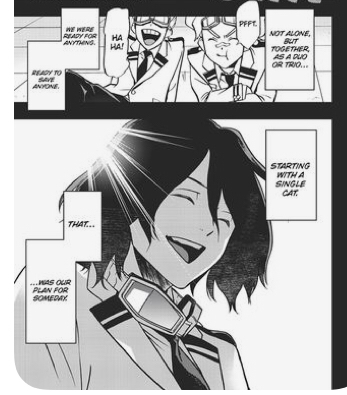 In the MHA Vigilantes manga, we see their early relationship in high school. They have a similar dynamic only Aizawa is much more **openly emotional** Just look at the panels in their Arc [Chpt 60-65], he smiles more and has more personality in him, Plus if you're up to date with the Main manga we get a flashback to Aizawa laughing and just...*Heart Clench*, Mic is the same in terms of manner and personality. However, after the death of their beloved friend Oboro Shirakumo *cough* **Kurogiri** *cough* Aizawa becomes depressed and struggles with survivors guilt, Mic is also traumatised of course! however unlike Aizawa, who trains constantly to cope with this, Mic supports him by..being quiet?
We get a panel (👆) of the pair in the UA gym and Aizawa is climbing up a rope, with Mic just sitting in the corner not even looking at his friend. This made me think about how they have this unspoken understanding of each other, yes what their doing is NOT a healthy way of coping with their trauma, but my point is that even without verbally being told by his friend to bring it up, Mic remains quiet, he can tell Aizawa doesn't want to discuss it, he knows how hurt his friend is and he knows what he himself must do, and that's to be quiet.
[Side Note: This is actually a huge con, in their relationship, I *Personally* see Mic as the more Kinder person because don't get me wrong Aizawa is very caring but his relationship skills need work (they do kinda get better) the evidence I have for this is, after the joint training arc - s5 - The pair walk down the school hallway where Mic *casually* brings up Oboro, which Aizawa quickly shuts down, this emphasises that Mic has learned to moved on and *buried* Oboro mentally whereas Aizawa hasn't, Aizawa is still clinging onto that trauma and repressing it, this isn't his fault of course and this tragic event in their lives has had a huge impact on their attitudes towards eachother]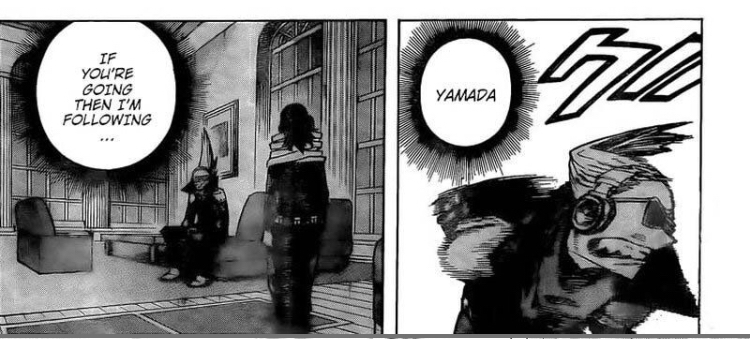 Now to counter argue what I've said above, these two do seem to have a complicated way of showing each other care. They do care for each other and it shines through mainly in dire situations. For instance; Before Mic is about to leave to fight the PLF [Paranormal Liberation Front] Aizawa says to Mic "If you're going I'm following" bare in mind that it's **Mandatory** for Mic to go because he's a ProHero, Aizawa [though it's unclear why because he's a pro] has the choice to stay at UA but he doesn't. Now we can theorise the many intentions behind why Aizawa would accompany him, I think it's safe to say that he wants him safe, he doesn't want a repeat of Oboro, he doesn't want to carry anymore guilt and regret and this time he's grown from his weaknesses, but above all he's ready to put his life on the line for Mic! And if that doesn't show a strong sense of love then idk what does.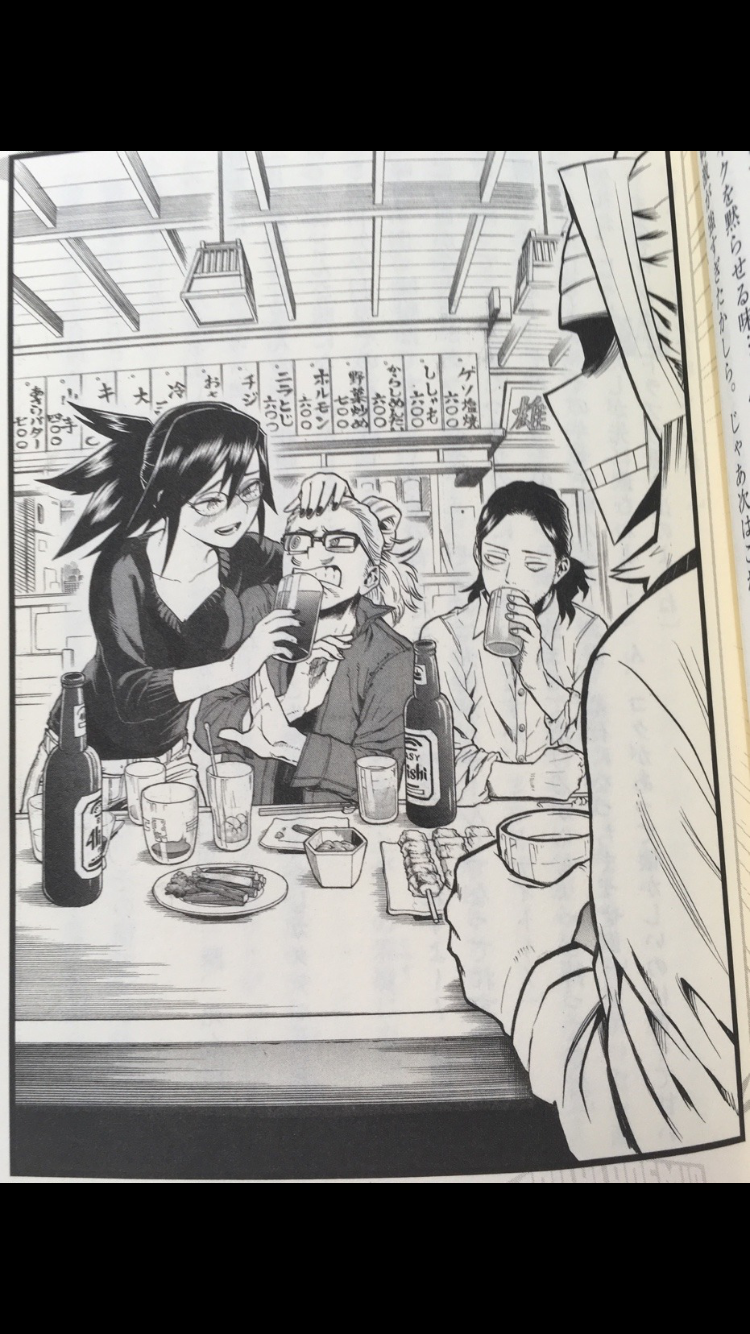 I'd love to get into more stuff but you'll have to forgive me because we need to move on **Aggressive Apology**. Regarding Shipping...I do personally ship them, solely because of their attitudes towards each other and their meaningful interactions. A really cool thing I wanted to point out for those of you who haven't already read the MHA Light Novels (Which are canon) is a moment that caught my and I'm sure other shippers attention;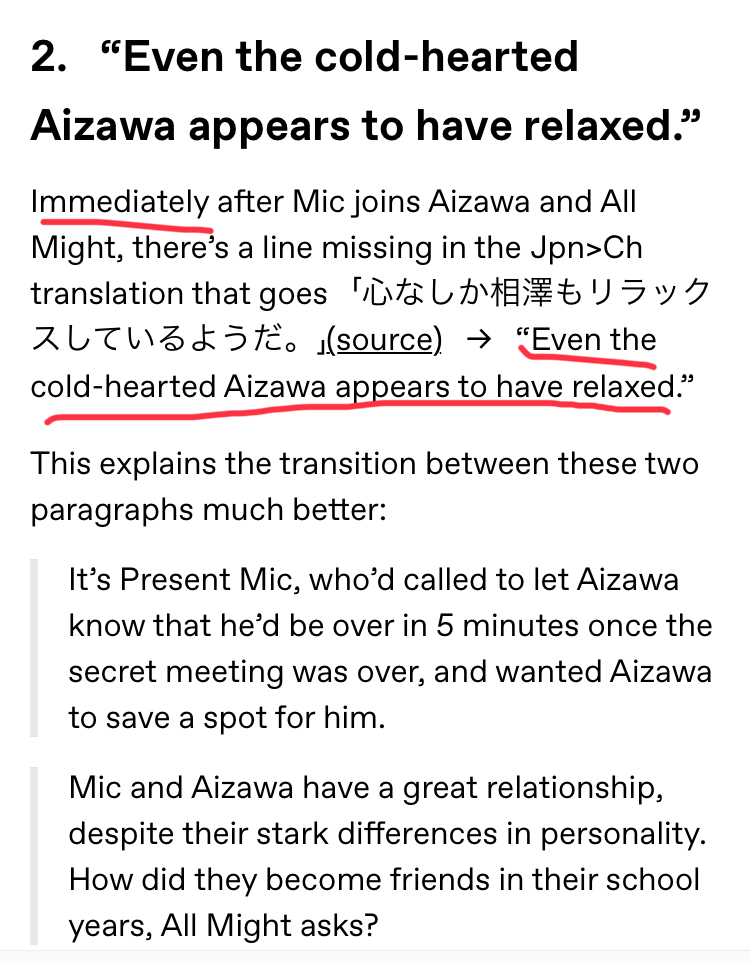 In the chapter named "Cheers!", which takes place after the incident at Kamino with AFO and All Might. All Might offers to buy a drink for Aizawa so the pair sit at a bar waiting for some other teachers...[technically they were only excepting Mic/Midnight I think but yeah that's not the point, stay with me now!] All Might is trying to get closer to Aizawa by creating some conversation, however as you'd expect from Aizawa, his answers to Toshis questions are very blatant and quick, so All Might tries to get him DRUNK! to only find that it's having no effect on him (lol spoiler it is, the poor mans SO drunk) when all Hope seems lost, Mic and Midnight arrive and I kid you not it says that Aizawa 'immediately' relaxes. It's great to see that he finds comfort in Mic and his presence alone puts him at ease, maybe that's why he's called PrEsE- jk I'm not about to ruin your day 😅.
Random Opinions:
• I love their pairing and dynamic, their relationship whether you believe it friends or more is definitely complex. The strong foundations of their relationship come from trauma which makes it more impactful every time their relationship and dynamic develop.
•Like with all real life relationships their a good and bad sides, like I mentioned earlier their are pros and cons to the way they *have* acted towards each other which gives their relationship some realism.
Phew! Twas wordy kind of, there's SO MUCH I want to write along side this but unfortunately I wasn't sure how to embed them into this discussion, again if you don't ship them that's 100% fine you can use this to also justify why their good friends etc. I hope you guys liked this, thanks and congratulations for getting this far and hopefully I'll see ya next time!
Take Care! UwU
(edited by GiselleJazz)