Every day, I'm going to go through and share my favorite ships for a character. Today is day one; Himiko Toga.
HimiDabi;
This one is kinda my most reasonable one. They both joined the League of Villains at the same time, and are now members of the Paranormal Liberation Front. They don't get along the best, but it's one of the more popular Toga ships, even though the age gap is there. One of my favorites.
ShigaToga;
This one is also reasonable, as Shigaraki was the leader of the LoV and the Grand Commander of the PLF. The two aren't too close from what we know, but the ship is cute nonetheless. Also, the age gap takes away from it being my favorite.
Togawice;
One of the most popular Toga ships, as they were both in the Vanguard Action Squad, League of Villains, and are in the Paranormal Liberation Front. Both were also Yakuzas for a short amount of time and their relationship grew there. However, Himiko is 17 and Twice is 31. With that age gap it's not very up there.
Togaraka;
This ship explains itself, after the Training Camp Arc. In the manga Toga states she has a crush on Uraraka. However, them being considered rivals in love, and one being hero the other being villain makes it less interesting. This ship is next to Togawice for me.
TogaDeku;
This one is my least favorite. Even though Toga says she has a crush on Deku, I believe it's only because of his similar appearance to her first crush and victim, Saito.
Himisui;
This one is definitely my favorite. After the Training Camp Arc the ship gained a few shippers, but it stayed hidden from the rest of the Fandom. But that's not why I ship it. After the fanfiction, Mightless by The Mysterious Banana, was written, many others began to ship it because of one moment towards the end of the fanfiction. I was one of them, as I found the moment cute.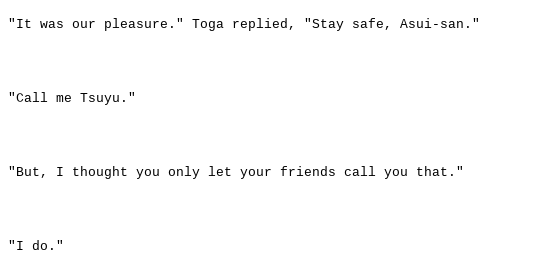 (that's it^)
Alright, that took forever so now I'm going to go vibe by myself-