THIS PAGE NEEDS UPDATING
This article needs to be updated. There is plenty of content, but there is some missing. Please help Shipping Wiki by
adding content to it
. Once all content has been updated, this template can be removed.
Amrean is the femslash ship between Amy and Cream from the Sonic the Hedgehog fandom.
Canon
This section is in need of major improvement. Please help improve this article by editing it.
Amy and Cream have a relationship similar to that of Sonic and Tails, as they have a sister-like bond and Cream is Amy's sidekick. They are members of Team Rose alongside Big the Cat. They have appeared together in multiple games, mostly ones released in the early to mid-2000s.
Their first common appearance was in Sonic Advance 2. They, however, did not have major interactions in that game. In Sonic Heroes, the two teamed up with Big to find their missing friends (Sonic, Chocola, and Froggy). In Shadow the Hedgehog, Cream and Cheese went missing in Cryptic Castle, and Amy asked Shadow to help her find the two. Both also attended Sonic's birthday party in Sonic Generations.
Besides the games, Amy and Cream are also best friends in the Archie comics (from issues released in 2010 until the comics ended) and Sonic X. They also appear together in the Sonic Comic stories "Hidden Leaf Jutsu!" and "Burning Beauty".
More specific details on stories where Amy and Cream interact can be found on the following pages:
Fanon
The pairing has some, but not massive, popularity. Most fans prefer Amy and Cream as friends, and the two are generally not liked as a romantic ship due to Cream's young age and more popular rival ships. As such, fan art specifically portraying the two as a couple is rare.
On DeviantArt, artist lucas420 has made art pairing Cream with Classic Amy. Although the rabbit is only seen alongside Modern Amy, Classic Amy is closer to Cream's age.
Fandom
FAN FICTION
DEVIANTART
Trivia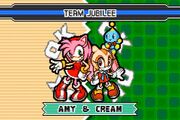 In Sonic Advance 3, the pairing of Amy and Cream is known as Team Jubilee. It is one of the four pairs to have a special name, and the only one to not feature Sonic.
Gallery
Fan art
Variations
Sonamream

- the polyship between Amy, Cream, and Sonic the Hedgehog
Team Rose - the friendship including

Big the Cat