THIS PAGE NEEDS UPDATING
This article needs to be updated. There is plenty of content, but there is some missing. Specifically from Seasons 2-4. Please help Shipping Wiki by
adding content to it
. Once all content has been updated, this template can be removed.
THIS PAGE NEEDS TO BE REWRITTEN
This article has information that is either grammatically incorrect, or inaccurate.
Please help Shipping Wiki by
rewriting it
.
Atomwave is the slash ship between Ray and Mick from the Legends of Tomorrow fandom.
Canon
Moments
Season 1
White Knights
Ray says that they should be focusing on the positives, instead of what went wrong. Mick thinks they did an awesome job, especially because of the chaos.
Ray and Mick are both captured by members of the Russian government.
Marooned
Ray is the first to voice disappointment when Mick joins the time pirates.
The Magnificent Eight
Mick comments on Ray's use of the word "aim" and asks if he's going native on them.
After Ray giver a very convincing speech that puts the Stillwater gang on the run, Mick comments, "Nice Haircut".
Mick tells the team that the time masters have issued omega protocols on them. Ray comments that the order sounds terrible.
Last Refugee
Ray blasts The Pilgrim before she has a chance to kill a younger version of Mick.

Mick later thanks Ray for saving his younger self.
Destiny
Sara asks why the time masters would want to kill Ray, Mick responds that she's heard what's come out of his mouth.
Mick hit's Ray and asks if the time masters wanted him to do that.
Ray asks Mick if the cupcakes are good, they are.
Season 2
Out of Time
As Ray's being distracted by his about to blow up suit, a German tries to shoot him, but only manages to fire a few shots at Rays' ATOM suit since Mick yells for Ray to watch out.

When the guy fire at Mick, Ray returns the favor and quickly yells for Mick to watch out, although not quickly enough, and then throws the German into the river before running to the injured Mick and carrying him back to the ship.

When Ray's about to be attacked by a T. rex, Mick saves him by firing his heat gun at the dinosaur just in time, which resulted in Ray turning around, calling him a buddy and asking how he found him.
Shogun
When Ray and Nate fall out of the ship and up into Feudal Japan, Mick argues with Amaya, telling her that he would risk his life to save them as they would do the same for him.
Ray says that he designed his suit so an idiot could use it, Mick responds that an idiot does.
Compromised
Mick tries to help Ray learn how to use the Cold Gun and to channel his inner darkness, to help him do it better, like Snart.

Mick then leaves impressed with Ray's response of threatening to ice him if he called him "Haircut" again.

During the White House tour, Mick encourages Ray to steal jelly beans kept for the president and happily accepts when offered some
Ray keeps trying to emulate Snart's personality but Mick tells him that he wasn't Snart so that he should stop trying to be and just be himself. This helps Ray find the confidence he needed to disarm a bomb.
The Chicago Way
Nate and Ray are arguing about who should come up with a plan to rescue Sara and Martin. Mick interrupts and says that they are doing this his way.
Amaya asks Mick if he's forgetting something, Nate and Ray. Mick says that they would get in the way, but Nate and Ray are standing right next to the vehicle and heard them. Mick tells them to get in the back.
After taking out a couple of guards, Ray and Nate start arguing again and Mick tells them to shut up, and that they are supposed to be partners and partners have each other's backs.
Turncoat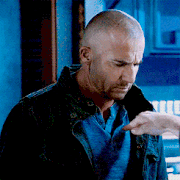 Ray confronts Mick about leaving crumbs since a rat was now roaming the Waverider. When he tries to touch Mick in accusation, Mick quickly catches his arm and pushes it back, with Ray apologizing for overstepping.
When talking on the bridge about what to do about the time quake, Ray sits next to Mick.
When having their Christmas dinner Ray says that Mick is the drunk uncle while lightly tapping Mick on the arm.
Ray says he got Mick a present and gives him the rat that Ray encountered earlier and Mick is happy with the present.
Camelot/3000
Mick is the first to stand up to Sara, telling her that even though Ray is a pain, they need to save him from doing something stupid.
Moonshot
Mick becomes concerned after finding out that Ray is trapped on the moon.
Fellowship of the Spear
Mick mentions the spear of doom is great for scratching those hard to reach places. When Ray asks him not to tell him he used the Spear of Destiny as a back scratcher, Mick replies that no one said anything about his back.
When escaping the church Mick is the last one to leave and Ray shouts at him telling him that they need to go.
Doomworld
Realizing he made a big mistake, Mick takes Nate to Ray, saying he's the one who could fix reality.
Mick tries helping Ray remember his old self, calling him a geek, a nerd, and a genius.
Upon seeing Axel in Rays' apartment, Mick calls out its name and when Ray corrects him to the name Tesla, tells him that he gave Axel to Mick as a Christmas present.
Ray gets his memories back and punches Mick in the face for his role in making him lose them.
Aruba
Mick dies and past Ray is very upset.
Past Mick appears and Ray is so happy to see him and says "You're alive!"
Ray moves to hug Mick but Mick says "Hug me and I'll kill you." After Mick walks away, Ray says to himself, "Ok, later."
Season 3
Aruba-Con
When Mick comments on Ava's attractiveness, Ray rolls his eyes.
Freakshow
Zari
While Zari and Ray fight Kuasa, several of the other Legends show up, including Mick. He states that if anyone is going to kill Ray, it's going to be him. Ray says thanks.
Return of the Mack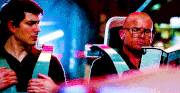 Mick says that he's waited his whole life to kill a vampire, and pulls out a stake. Ray looks at him weirdly.
When the Waverider has to fire on itself, Ray asks if anyone wants to hold hands, and makes a grab for Mick's. Mick throws Ray's hand to the side as he continues to read Dracula.
Welcome to the Jungle
Nate tries contacting Ray because he is concerned about Mick.
Beebo the God of War
Mick comments about whether it's strange to find Freydis hot. Ray says yes, but that it's not surprising for Mick.
Daddy Darhkest
Ray compliments Mick on stepping up as a possible leader, Mick growls at him to leave.
Here I Go Again
Ray and Mick do laundry together.
Guest Starring John Noble
Mick and Ray are the ones to fight Grodd.
The two are the ones to draw the spell to trap Darhk.
Ray is given the water totem which is the opposite of fire, which is the totem Mick has.
The Good The Bad and the Cuddly
Mick comments on how Ray doesn't drink after he takes the bottle from Mick.
Mick had Ray's song for remembering Nate's codes memorized since Ray sings them so often.

They've apparently spent enough time together for this to happen.
Season 4
Witch Hunt
Mick and Ray get turned into pigs by the fairy godmother.
Hell No, Dolly!
Ray stops Mick and Constantine from fighting.
Mick is the one to save Ray from Mike the Spike.
Quotes
Behind the Scenes
Fanon
Shipping between the two started to become more common after season 1 episode 5, when they were trapped in a Russian gulag together. The added scenes of them together throughout season 1 also helped. The pairing was more popular during the first two seasons, but dwindled as they shared less and less screen time.
On AO3, Atomwave is the second most written ship for both characters, and is the sixth most written ship in the Legends of Tomorrow tag.
Fandom
FAN FICTION
TUMBLR
Trivia
Mick only ever calls Ray by the nickname he gave him, "Haircut". He's also called him "Pretty" and "Boy scout".

Mick called Ray by his actual name for the first time, when he was in danger of turning into a zombie in season 2 episode 4 "Abominations"

Both of them enjoy musicals
In a deleted scene from the first episode of season 2, Ray patched up Mick in the medbay after he was shot
Ray is a celiac and is allergic to cats.
Mick is scared of clowns.
Gallery
Videos
Variations
ColdAtomWave refers to the ship between the two and Leonard Snart
References
Community content is available under
CC-BY-SA
unless otherwise noted.