Bemmett is the het ship between Bay Kennish and Emmett Bledsoe from the Switched at Birth fandom.
Canon
Season 1
Emmett is Daphne's best friend, the girl with whom Bay was switched at birth; when the two girls' families decide to live together, the two know each other when Emmett comes to pick up Daphne to take her to school. At the first meeting the two exchange a smile.
The first real contact between Bay and Emmett, however, occurs only after some time, when the boy helps the first to find information on his biological father (the other biological relatives of Bay, refuse to give her information). The two eventually discover the man's name: Angelo Sorrento, and they tie a lot during their search.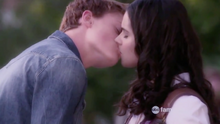 Emmett continued to help Bay look for her father and even went as far as to go with her and Daphne to the night club where they thought he worked (it was a simple case of homonymy). Daphne becomes suspicious and asks her friend if something is happening between him and Bay; Emmett assures her that nothing is happening, but later goes to Bay's school, telling her that he likes and kisses her, leaving her speechless.
The next day is Bay going to Emmett's school to see him and asks if he's just using her to make Daphne jealous or if she really likes her, Emmett kisses her in response. In short, the relationship between the two becomes more serious, but when Daphne calls Emmett to come and take her because the car of the boy she came out with has jaws, Bay goes away angry and jealous, for the friendship between the two. Nevertheless, when Bay discovers that her biological mother had discovered some exchange years ago and had decided to do nothing, Bay rushes to Emmett in despair, and he does his best to comfort her.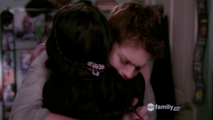 Bay reveals to Emmett that he does street art, and that her dream is to draw on a billboard so that everyone can see her art. Melody Emmett's mother accidentally discovers their relationship, and is not at all happy given that while Emmett is deaf, Bay is hearing. Melody is clearly convinced that Bay is unable to understand Emmett, and does not like it at all that her son decides to do speech therapy to better communicate with Bay (who is at the same time learning sign language). Later, Bay tries to paint a billboard, and Emmett to help her but they are not successful, and they are caught by a policeman. While running away from the police, Bay injured her hand and Emmett on his side. Melody notes that both were injured and interrogates Emmett, expressly showing that she doesn't like Bay. This is a blow to the girl, as Melody is also Regina's best friend, (Regina is Bay's mother biology). Bay gives Emmett a camera and he only accepts as long as Bay turns him into a model, so the two spend the day together. Emmett takes many pictures of Bay, a sign that he loves having many memories of her.
For her birthday Bay receives a scarf from Emmett, which is nothing compared to the gift he made to Daphne, a signed poster of a film that both love very much. However at the end of the day Emmett tells Bay that this is a bandage, and after covering her eyes, he takes her to the billboard on the other night, on which he put a drawing made by the girl, where she sees that he has labeled the billboard for her with his art. Bay is ecstatic about the gift, and the two decide that the girl will tell Daphne about their relationship. However, when Bay returns home, Daphne tells her that she likes Emmett, and Bay doesn't say anything to her. Bay is clearly worried that Daphne might take Emmett away.
Later, Daphne accidentally discovers the relationship between Bay and Emmett, and she is not happy about it, ending up arguing with both of them. When Angelo, the biological father of Bay, tries to approach her, Emmett helps his girlfriend decide if she wants to meet him for less. Daphne and Emmett plan a fundraiser for their school and Daphne discovers that Emmett goes out with Bay seeing that he has plastered the walls of his room with photos of Bay. The girl is not at all happy, and she and Emmett fight. During the fundraiser, Emmett tries to clarify with her friend and she takes the opportunity to kiss him, but he breaks away and tells her he is with Bay. Although Bay never gets to know about the kiss, the two quarrel because of their difficulty communicating, but Emmett after talking to Toby (Bay's adopted brother), joins the girl at her school and tells her that it would be more easy if he found a deaf Bay ... but also that he doesn't want a deaf Bay, he wants her.
In the last part of the speech Emmett does not use sign language, but speaks. It is the first time he does it in his life, and Bay knowing it is incredibly moved, so the two make peace.
Emmett plays drums, so he is invited by Toby and his friend Wilkie to join their band, for a music festival, and after an initial refusal he accepts. Bay gives him an accessory for his battery, and promises to reach him the next day, having a previous engagement with her biological parents. When she finds out that Daphne has joined the boys at the festival, she decides to leave even if it is night, fearing that the "sister" wants to steal the boy.
Emmett is genuinely happy with the girl's arrival, but the two continue to have misunderstandings: Bay does not understand why Emmett does not want his help with hearing people and does not want to use his deafness as a defense. He explains that he always finds a way to get away, and doesn't want his hearing girlfriend to defend him ... using Daphne as an interpreter. Bay hates that sometimes they need Daphne to communicate and he replies that one day they won't need her anymore. They hug, lean against a rock and look at the stars in the sky, saying that since they are both angry with the world, it is more fun to be together.
Emmett is arrested for abusive posting and vandalism, for the billboard he painted for Bay. In the end he gets away with a five-thousand-dollar fine, but he is forced to sell the bike to pay. Bay tells Melody that Emmett painted the billboard for her, and that it's her fault, but that doesn't move the woman. Bay and Daphe also try to raise the money to pay the fine, but they fail. Bay is worried that this could ruin their relationship, but Emmett reassures her that she doesn't have it at all with her.
Emmet decides to stay with his father, (his parents are divorced), and Cameron Bledsoe and his new partner Olivia have a completely opposite attitude towards Bay, compared to Melody's: the first compliments her, and the second invites her to sleep with them whenever she wants. Even if she's a little embarrassed, Bay is very happy about it.
Kathryn (the adoptive mother of Bay) discovers that Emmett is in charge of making a family portrait for his photography course. Since Emmett's parents are divorced, Kathryn offers young Bledsoe to photograph her family for the photo shoot, despite Bay's protests. Unexpectedly, everything is fine, and Emmett and Kathryn also seem to get along. However things get worse soon when the woman, says to Emmett, who approves her relationship with Bay, because it helped the girl forget her relationship with Ty, an old friend of Emmett and Daphne. Emmett is shocked to learn that Bay and Ty were together, and Kathryn adds that Bay was heartbroken when Ty left her to join the army. It is hard for the boy to also find out that the two keep in touch by e-mail, and pretends to read them. Bay initially gets angry, but when she finds out that Ty sent her a picture of a decorated tank, with the girl with the ax, she's very embarrassed.
Emmett is very hurt to learn that Bay did street art with Ty too, but is consoled when Bay tells him "I love you" for the first time.
Emmett struggles a lot with speech therapy, and Olivia offers him an unusual way to help him relax: drink whiskey. Bay, worried that her boyfriend may be infected by Olivia's lax attitude, confides in Melody, despite Emmett asking her to stay out of the legal battle for his custody.
Bay learns that a helicopter of her ex-boyfriend Ty's military unit crashed but the names of people killed in the crash are not released. Emmett gets jealous again but still tries to cheer up his girlfriend; he even seems toadmire Ty for his choice of enlisting, which he is not allowed as deaf, (it must be said that Emmett and Ty knew each other, before knowing Bay, and they seem to get along so his admiration must be sincere). Bay eventually discovers that Ty wasn't in the helicopter, and tells him she's dating Emmett.
Emmett's betrayal and first break
Bay finds herself in another difficult situation when Melody asks her to testify against Emmett's father so that she can get full custody of the boy. The situation gets even worse when Bay and Toby discover that Cameron's new girlfriend is a drug dealer. After talking to Bay, Cameron decides it's better for her son to be with Melody. But when Emmett finds out about his girlfriend's involvement, he gets very angry and the two have a hard fight. Still furious, Emmett by chance meets Simone, Toby's girlfriend who has just quarreled with him. The two get drunk and end up spending a night of passion together.
Emmett is tormented by guilt over what he did and goes to Bay's house to apologize for their argument. The two make peace, and Bay asks Daphne to help her find a birthday present for Emmett. The girls then decide to shoot a movie for the deaf on zombies, and Bay tries to rent the video equipment of his school, but discovers that Simone has already taken it and is forced to ask him to borrow it. The girl who like Emmett is prey to remorse accepts.
Emmett invites Bay to the Carlton ball, and Daphne invites Wilke, a friend of Toby who accidentally discovered Emmett and Simone and eventually confides to the girl. Emmett denies everything, but Daphne does not believe him and in the end the boy gives up and reveals everything to Bay what happened with Simone, the girl is devastated by it and upset by anger breaks with him.
Emmett: "We are bigger than my mistake ".
- Emmett tries to convince Bay to forgive him.
For the summer Bay goes on vacation to the Galapagos Islands, and meets a new boyfriend Alex. Emmett tries to regain it, Bay making her find a map, which leads her to a mural he painted for her, and while not forgiving the boy she breaks up with Alex.
Daphne and Emmett decide to bring their horror film for the deaf to a convention, but when Toby runs into Emmett at their house, he ends up punching him. Bay watches everything and rushes to check on Emmett's condition, visibly worried about him. This makes it clear, however angry that Bay is still linked to the young Bledsoe.
When John hosts a motorcyclist convention at the car wash. Emmett participates and meets a deaf girl who goes on a motorcycle, but is still caught by Bay, and ignores Daphne's advice to try asking her out.Even Bay shows up at the convention ... and the biker, just chooses the moment when Emmett is trying to talk to her, flirting with him, much to the boy's frustration.
When Emmett accidentally discovers that his mother Melody, and Daphne are interested in the same man Jeff, he immediately confides in Bay. As much as she is still angry with him, she acknowledges the gravity of the situation, and informs Daphne, even if it does not resolve the situation. Later on, Bay became friends with a street artist named Zarra, who turned out to be a bad influence, and with whom she increasingly linked due to family problems. This depends on the fact that she can no longer let off steam with Emmett.
Bay: I can't believe you came all this way to find me.
Emmett:: I will always come find you.
Eventually Bay moves to Zarra, and decides to go to Mexico with her, to meet her friend's father a famous street artist. Emmett sees Bay, prepares for departure and gets suspicious. When unable to contact Bay a desperate Kathyn calls Emmett; the latter locates the girl's cell and goes to pick it up with John (Bay's adoptive father). In the end the brunette decides to go home and seems very impressed by what Emmett has done for her.
Season 2
Become classmates
Emmett: I don't wanto to be your friend. I thought I did ... but it hurts too much ... to be with you but no be with you.
Bay, who now acts diligently, is accused of copying the French test and is being investigated by the Buckner Hall school board. The obviously outraged and offended girl unleashes herself with Emmett.
Bay hates the private school that she attends, and since the Carlton (the school for deaf people frequented by Emmett and Daphne) starts a program for students with deaf relatives, she convinces her parents to transfer her there. Emmett is very happy, and immediately believes that the girl did it for him. Bay soon has problems integrating and following the lessons, and Emmett is the only one to help her integrate.
Melody discovers the problems between deaf students and hearing students and forces everyone to go to the retreat for the weekend. Emmett plans to take advantage of it, to spend some time in a romantic way with Bay, but discovers she made friends with Noah, a boy from the pilot program affected by Meniere's syndrome. Although the young Bleldsoe is jealous, he does nothing to stand between them. Emmett hates being so jealous and when Bay tells him he needs him as a friend, he tells her he can't be just that for her.
Bay decides to give an anti-Valentine's Day party and invites all his friends, both deaf and hard of hearing including Emmett and their friend Travis, and when the first tells her he already has plans, she is surprised.
Eventually Emmett and Travis go to Bay's party, and the girl openly tells the first, who is happy with his arrival. Eventually the party is ruined by a fight between Travis and Noah, and Bay exchanges a kiss with the second.
The next day Bay tells Emmett about his new relationship and Emmett responds by kissing her and asking her if she's sure she wants to move on, confusing her. The relationship between Bay and Noah seems to be going well, until the boy and Daphne are chosen as the protagonists of the school play, Romeo and Juliet. The two get closer and closer, coming to kiss behind the scenes, being seen by Emmett.
Emmett: Come on!
Bay: Am I invited ?
Emmett: It's your school, too. Isn't it ?
-Emmett convinces Bay to participate in the sit-in.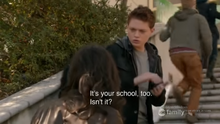 Over time the situation in the Carlton becomes explosive when deaf students oppose the pilot program for hearing students, and the school itself may be closed due to lack of funds. Being the only place where the deaf don't feel different they decide to organize a protest sit-in during the play. Since most students want to dissolve the pilot program and leave school only for the deaf, Bay is not informed of the sit-in, except at the last minute even though Emmet asks her to do one of his works for them. However, Bay also involves Noah despite Emmett's perplexity and Travis's protests.
During the occupation Bay speaks with a journalist and this makes many of her companions angry, since it seems that the deaf need to be a hearing speaker to act as their spokesman. Even Daphne scolds her and Noah takes her side; Emmett is the only one who understands Bay's reasons and also tells her what he saw. The girl initially does not believe it and thinks he is slandering Noah because he is jealous, to which the young Bledsoe is offended, and tells her that he does not intend to waste time running after one who does not even notice that his boyfriend is in love with another. Known to Noah that Emmett said the real Bay breaks with him, and fights with Daphne.
The arrival of summer and the return of Ty
Toby and his girlfriend Nikki shock everyone by deciding to get engaged and get married. Bay goes to talk to Emmett and the boy admits that as she finds the idea of those two to marry just after graduation, pure folly. The two seem to finally be able to have a relationship of pure friendship, also because some time later Bay meets again, her ex-boyfriend Ty returned from military service in Afghanistan, and soon the two of them resume their relationship. Emmett doesn't seem to mind, but it could be because he had known Ty for years and would prefer him to have Bay, rather than a perfect stranger like Noah.
The Kennish pretend that Bay and Daphne find themselves a summer job, and the first not wanting to work in John's office like her adoptive sister gets hired in a carnival. As business goes bad due to a nearby water park, Bay decides to set up Deaf Day to get new customers. Received the ok from the boss to organize everything, the girl gets help from Emmett, who decides to project the film for deaf Deafenstein. The boy, however, accidentally brings the film that the group had filmed for his birthday, and Bay decides he wants to watch it with him although Emmett is not convinced that this is a good idea. The boy's fear is immediately confirmed, as Ty joins them just as the scene of their kiss is on the screen. The boy doesn't like it and that leads to a fight with Bay, and Emmett seems decidedly sorry.
Emmett: However bad you're feeling right now... he's going to feel way worse, when he figures out what he lost.
- Emmett tries to console Bay after she was tricked by Ty.
Ty's unit will soon have to return to Afghanistan, and Bay tries to weave a long-distance relationship with him, only to find out that he cheated on her. In reality, the boy discovers that his unit has been assigned to a very dangerous area, and decides to trick Bay into pushing her to leave him. Mary Beth, a mutual friend of the two, finds out but the soldier imposes silence on her.
Season 3
Bay's jealousy
The last year of high school has arrived and the Carlton has changed a lot: due to the closure of other schools, many hearing students have been forced to move there, something deaf students are anything but enthusiastic about. Bay enrolls in an art class at a nearby college and has to do an art project with a college boy, Tank and the two soon make friends. Meanwhile, Emmett sees a vandal cutting the tires of deaf students' cars and soon finds out that he is his friend Matthew, who hopes to put the hearing kids in a bad light, to get them out of school. Emmett finally decides to denounce Matthew, who is suspended. Many deaf students for this reason take it out on him, and Bay immediately takes his side. As she is creating the portfolio for art school questions, she asks Emmett to photograph her best works; the boy in exchange asks her to help him with his astronomy project: having to photograph a meteor shower, he wants Bay to help him in case he has to communicate with hearing people.
While he photographs her works, Bay discovers that Emmett has a new girlfriend known online Mandy, and discovers she is terribly jealous.
At the same time, she acknowledges that she is still taken by Ty, and that if he apologizes to her and asks her to come back together she would do it. The evening Bay storm of questions Emmett on his relationship with Mandy, and found that the two have not yet seen in person kisses him. The boy initially reciprocates, but then breaks away and the two fight. Bay asks why she deserves to be betrayed and Mandy doesn't, and Emmett counters that Bay will never really get over his betrayal, and that they will never be able to get back together.
The next day Bay takes Emmett's pictures of the meteor shower and apologizes to him, and they reconcile.
After a while Bay begins to frequent Tank, but there is little harmony between the two. Some time later the girl seriously injured her hand, which made it difficult to paint, but her art teacher asked her to work better without being stopped by the wound in her hand.
Bay's job is to paint a memory. To help her, Emmett decides to take her to a replica in Las Vegas, which a millionaire had built for his wife suffering from senile dementia, hoping she would remember the place where they fell in love. Deeply touched by the romance of the thing, Bay gets lost in a daydream in which she and Emmett dance in that place, while it's working despite her dating Tank. In the end, Bay creates a zootrope for her work of art, getting her teacher's compliments.
Mary Beth, who does not like the fact that Bay frequented Tank, breaks Ty's promise to reveal that the soldier has not betrayed her. A distraught Bay goes to talk to Emmett, who points out that Ty is not with her as opposed to Tank. The latter, however, gets angry when he finds out that Bay has talked about it with Emmett before, sensing that the bond between them is still very strong, and indeed Bay continues to look jealous of Mandy.
A love never dormant
Bay: You came here to look for another girl.
Emmett:: I kept trying to make what I had with her be what I had with you. I just wanted to feel that again... What we had. But I don't think I'm ever going to find that feeling with anyone else.
Bay: You know I love you. I never stopped
Bay continues to suspect that Mandy is hiding something, although Emmett insists on ignoring irrefutable evidence, blaming her for wanting to see him unhappy. Stuck in her certainties, the young Kennish begins to do her research, despite the fact that it makes her quarrel with Tank what she does, and discovers that Mandy is not called Mandy but Jennifer, , lives Kansas City like them who is not a photographer and who is not deaf. When she asks for explanations Jennifer claims she never heard of Emmett and that is her cousin to be deaf ... and that the latter is Matthew, the vandal who wanted to drive out all the hearing kids from the Carlton, who made fun of Emmett all this time to take revenge for the suspension caused by the young Bledsoe. The latter when he goes to the picnic that "Mandy" had arranged for him by staging his visit to Kansas City finds himself there, Matthew, who after having revealed the truth to him, beats him savagely, filming the beating with the intention of publishing it on the web. Bay discovered the meeting place thanks to Travis arrives too late. She had tried to warn him, but unfortunately Melody had seized her son's cell phone because of bad grades
Bay does her best to console Emmett who confesses he still loves her. That for him Mandy was just a way to recreate what he had with her; he hoped he could replicate with his new flame the sincere feeling he felt for Bay, but he admits to her that he doubts that he will ever have someone else, what he had with her. Bay, on the other hand, admits that he has always loved Emmett and has now regained confidence in the boy. After the mutual declaration the two make love.
The next morning Emmett reacts to Matthew's teasing and told him that he did him a favor, because thanks to his deception he managed to get back with Bay. As soon as he sees the latter, Emmett is very happy, but the girl does not share his enthusiasm, both because she is sickened by the effect of the morning-after pill, and because she is guilty of having betrayed Tank.
Emmett fears that Bay considers what happened between them to be a mistake and does not want to break up with Tank. The girl tells him that now that she has betrayed him, Tank will leave him, but that she feels very guilty, and that Emmett should understand her. The boy apologizes and says that he did not want their relationship to be rekindled with a betrayal, and answering him that she knows.
At first attempt Bay can't let go of Tank, and when he tells Emmett he is clearly disappointed, but he doesn't get angry with her. Bay looks at the pictures taken with Emmett at the time they were together and finally decides to go back with him. In the evening the two meet and Emmett apologizes for putting pressure on her and will wait as long as necessary, and Bay replies that he will leave Tank tomorrow. Emmett is also worried about what Matthew could do to him (his mother got into trouble by attacking him), but Bay reassures him by saying that they will face everything together, and the two decide to become a couple again.
Come back together
Bay eventually leaves Tank, but feels terribly guilty for breaking his heart and confiding in John telling him clearly that she loves Emmett. But Matthew hasn't finished with Emmett yet: he prints the messages that Emmett sent to "Mandy" and posts them for the whole school. Emmett later tells Bay, who sent "Mandy" his own nude photo, after "she" had sent her his own, and that threatens to post it too. Bay decides to help him recover the photo.
The two lovebirds discover the combination of Matthew's locker, and take over his laptop and his cellphone. While deleting photos and messages, they discover through an unsent mail, that Matthew is in love with Emmett. Emmett is tempted to take revenge by publicizing Matthew's homosexuality, but Bay persuades him not to.
After telling her father to come back with Emmett, Bay discovers that Melody is planning to move to Madison. Bay and Emmett later go to a party organized by the second's father, where they tell everyone they came back together. Surprisingly at the party, Cameron Bledsoe marries his new pregnant girlfriend and when he announces that he does not intend to redo the mistakes made in the first marriage, Emmett believes he is one of those mistakes and goes away angry.
Bay then tells him that when she found out she was switched at birth she was convinced that John and Kathryn would drive her out of the house, to keep their real daughter with them, but that the Kennish continued to treat her as the usual. Emmett realizes that his father still loves him, and decides to give his old toys to his new little brother. Bay is not accepted at the art school she wanted to enroll in, but she has to endure much worse when her father Angelo has a car accident. When Angelo needs a transfusion, Bay immediately volunteers, faints during the collection and dreams that his father is next to her, while he is about to give birth to two twin children of Emmett. This implies that at least unconsciously Bay, wants a future with Emmett, and that the girl thinks of him even during such a tragedy.
Emmett heard what had happened, rushed to Bay, ready to console her, and the girl was very heartened by his presence.
Emmett: I know you loved him. And sometimes... love means doing what the other person wants. Even it isn't that you want.
Unfortunately, Angelo suffers a brain death. Bay and Emmett go to his house, to look for his relatives' phone numbers to inform them of what happened, and as they rummage, Emmett finds Angelo's will. In it man states that in a similar situation he does not want to remain connected to life support systems. Bay is horrified and proposes to hide or destroy the will, but in the end Emmett persuades her to respect the last wishes of her father. This shows how much Emmett's opinion for Bay counts, and how both often manage to convince the other to do the right thing.
John decides to take Bay and Daphne to Chicago so that Daphne can tour a university and Bay can meet Angelo's cousin. The aim is obviously to distract them, but Bay discovers that Angelo's older sister died from an aneurysm at the age of 18. Bay therefore begins to fear having the same biological characteristic, given that Angelo also had his accident for an aneurysm.
Tank becomes Toby's roommate, and discovered what happened from Bay to his condolences. Later Emmett is admitted to Gallaudet (the only university for the deaf), but Travis is not admitted. Knowing how it feels, Bay decides that the three of them (her, Emmett, and Mary Beth) should try to distract him; Emmett agrees and suggests she go out to dinner that night to celebrate his admission. When Bay refuses because he promised Tank to help him, to solve some problems he has with his father, and Emmett is offended a lot.
Even worse, Bay goes to a neurologist and discovers that there is a real possibility that she has an aneurysm. Emmett is accepted by a film school but hides it from Melody who tells him he is trying to open a branch of Gallaudet. The boys all go to the amusement park for the deach day and in the meantime Emmett tells Bay not to be sure he wants to go to the film school in Los Angeles, and the girl, despite wanting it, can't talk to him about the aneurysm.
At the amusement park Bay meets Jennifer (the girl Matthew pretended to be) and tries to make Emmett not see her. Jennifer recognizes Bay and tells her that after reading Emmet's beautiful messages she left her boyfriend; eventually Jennifer talks to Emmett and Bay tells him that maybe he should go out with someone else, confusing the boy. Once discovered that her analyzes show no signs of aneurysm. Bay tells Emmett to go to film school and she will follow him: she doesn't want to wait to be with him.
Emmett makes a paper flower for Bay to invite her to the year-end party and the two are crowned king and prom queen, throwing salt on Daphne's wounds. Due to mandatory clothing the boys protest, including Bay. Emmett is upset because he struggled a lot to make the evening unforgettable and he had campaigned to get more votes for them. He wanted to make the evening unforgettable, because their only dance together had been disastrous, but Bay made him realize that the only thing he wanted was to be with him.
Bay's parents are not at all happy with her decision to follow Emmett to Los Angeles, but to avoid a fight, John tells her that if she manages to come up with a realistic plan to settle in Los Angeles, they will give her permission to go; the man is quite sure that his daughter will never succeed, but Bay sells her car to pay for her plane ticket, there is a job as a bartender, and a lodging, so in the end John and Katrhyn can no longer object.
Unfortunately for the projects of the two lovers, after Angelo's death, Daphne took her with Regina, and committed vandalism at her workplace. The girl is now in jail for having precedents (during the summer she and her boyfriend had blackmailed a senator, threatening to reveal that he was having sex with an intern), so Bay takes the blame for avoiding her jail.
Season 4
Long distance relationship
Bay explains to Emmet that she took the blame for what Daphne did and he gets angry both because his girlfriend didn't tell him anything before making this decision, and because Daphne won't have to face any consequences for her crimes, but Bay reassures him. Finally, Bay is placed under house arrest with a curfew at 7:00 pm, and sentenced to do socially useful work. However, only John is satisfied with the girl's decision.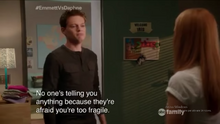 10 weeks later Daphne is about to go to Gallaudet and Emmett to Los Angeles. Bay plans to join him at Christmas as soon as the sentence is over. Emmett then dedicates a new mural to their story, being the wall on which he had painted the first one, it was repainted, and the girl was touched by it. Unfortunately, Bay is tricked into giving heroin to another convict she is given another 100 days of probation and when an angry Emmett finds out she tells Daphne that she has ruined his life and that of Bay and that he does not he will never forgive her. Although Daphne has been her best friend since childhood, Emmett is the only one besides Toby to openly blame her mistakes. This depends in part on his being a sincere person, but above all on how hurt the boy was from seeing the plans he and Bay had destroyed because of the immaturity and stupidity of Daphne.
The boy no longer wants to go to Los Angeles, without Bay but his mother Melody convinces him not to miss this great opportunity and after a moving greeting with the girl leaves.
Although she herself helped convince him to go without her, Bay is desperate after Emmett's departure. Daphne tries to talk to Bay about what happened and although he confesses to her that he decided to stay and study at the branch of the Galludet opened by Melody, for her her sister angrily drives her away from her room.
Bay and Emmett are very sad to have been divided, and the only moments when they look happy are when they communicate with each other.
In Los Angeles, Emmett befriends a Skie classmate. After a while she takes him to a movie set and tries to kiss him, but the boy rejects her and tells her he already has a girlfriend. Despite this, the two maintain their relationship.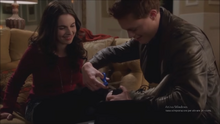 Bay saves the life of the overseer and gets a penalty discount. Now no longer under house arrest can be freed from the anklet that served to keep her under control, and Emmett makes a surprise visit to celebrate the event. Bay is happy and moved by this, and lets Emmett free her.
Emmett stops in Kansas City two days, and initially everything is fine, but when Bay finds out about Skye and the kiss she gets angry. Emmett reassures her by telling her that she is just a friend, and that it is only thanks to her that he has managed to settle in Los Angeles; she hadn't wanted to tell Bay that she was sick, because the girl was going through a bad time, but she's upset. Eventually the two quarrel and Emmett leaves.
Bay's betrayal and the second break
Travis organizes a party at Daphne's college, and Bay goes there to let off steam and forget the fight with Emmett. There he meets Tank and the two get drunk. The next morning she wakes up totally naked in bed with him. Immediately after she slipped away, Bay receives an SMS from Emmett apologizing for their argument. Bay is tormented by remorse for what she did and after asking advice from various people, tells Emmett what she did. When he finds out Emmett gets very angry and throws off the laptop the two were talking to.
At that point Daphne goes to Los Angeles to talk to Emmett; the boy is far from happy to see her, and considers himself responsible for it, but Daphne tells him the exact nature of the events, convincing him to return with her to Kansas City. Bay is surprised by Emmett's return, and he doesn't seem to be angry anymore, but in reality he did not pass the thing, and the two fight again. Eventually the two make peace on the phone.
Emmett decides to make a student film based on his story with Bay, and includes Sky among his collaborators. At the same time, their friends Travis and Mary Beth leave, despite Bay's efforts to prevent it. This leads her to go to Los Angeles to find Emmett. But the girl decides to surprise him and does not warn him.
Emmett was happy to see Bay and the girl seemed happy that Emmett had decided to dedicate a film to their story. Bay also gives Emmett a director's chair. The young Kennish, however, finds herself face to face with Sky, and discovers that even her betrayal has been included in the film. Bay is upset and hurt, and believes that Emmett did it for revenge. Eventually Emmett decides to break up with the girl: while still loving her, the young Bledsoe no longer feels in tune with her and does not know what to think of the Tank thing. Bay is devastated by the incident, and bursts into tears, little to her showing how upset she is.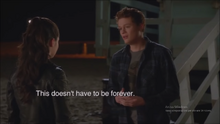 For the boy it is not an easy decision, but by now he has lost the harmony with the girl, and he trusts much less than her.
The break has a bad effect on Bay, which falls briefly into depression and begins to see Emmett everywhere. In the end, however, she decides to make a commitment to overcome the rupture, concentrating on the study, and on her brother Toby who just got his girlfriend pregnant.
Daphne, Bay and Travis for the spring break make a volunteer trip to Mexico with Melody for the distribution of hearing aids for needy locals. Emmett shows up without warning, and his appearance is not very pleasing to Bay. The boy also looks uncomfortable, but tries to be friendly with Bay, and informs her that he's taken to Sky, but only after they break up. Terribly jealous, young Kennish steals her ex's cell phone and sends a message to Skie telling her that they are in the same place, and starts flirting with Travis, triggering a fight between the two friends; Emmett is very offended by his behavior, (it must be said that after their first breakup, the boy never tried to sabotage Bay's relationships), but then apologizes to Travis even though he understands that he feels attracted to Bay and does peace with Daphne. Bay loses an important interview and after talking to an elderly lady who was a fan of Frida Kahlo she reconciles with Emmett. The girl in fact understands that she doesn't want her and Emmett to continue hurting each other, as happened to Frida and Diego Rivera, before reaching happiness.
Emmett discovers after a while that Travis feels attracted to Bay, and asks him not to start a relationship with her, (it must be said that Travis has been living at Emmett's house for years, so besides jealousy, it may be that the boy does not wanted to damage their friendship by now a real fraternal relationship). The Emmett teacher would like to send his film to a festival, which could make his career take off like a rocket, but the boy first asks permission from Bay, who finally gives it to him.
Emmett senses that Bay and Travis are approaching, but decides to stay out of it. During their videochat, Emmett and Bay seem to be friends again.
Some time later Bay is contacted by an art gallery that wants to organize an exhibition about her and is very happy about it, but then discovers that it was Travis who paid for the space.
Some time later Bay is contacted by an art gallery that wants to organize an exhibition about her and is very happy about it, but then discovers that it was Travis who paid for the space. Emmett goes to see the show and finds himself jealous of Travis again.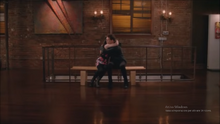 After talking to her mother, Emmett encourages Bay by assuring her that she will one day become a great artist. Emmett is aware that as far as they are and as far as they can get to different people, the two of them will always have something that will unite them, despite everything and that they still feel attracted to each other, but declares that he must now let go of Bay and that he is proud of her.
Season 5
Fanon
Bemmett is the most popular ship of Switched at Birth. It is rival of Bavis (BayxTravis), BayxTy, and Daphne x Emmett. Being the main ship of the show, the fans pay homage to it with video, fanfiction, and Gif.
Fandom
FAN FICTION
Emmett/Bay tag on AO3
Community content is available under
CC-BY-SA
unless otherwise noted.