Woah! That's one small ship!
• THIS ARTICLE IS A STUB. YOU CAN HELP Fionic SHIPPERS EVERYWHERE BY EXPANDING IT •
Fionic is the femslash ship between Fiona and Nic from the Sonic the Hedgehog fandom..
Canon
This section is in need of major improvement. Please help improve this article by editing it.
In the side story of Knuckles the Echdina issues 26 and 27, Nic asks Mighty to help her locate gemstones in exchange for locating his friend Ray the Squirrel. Along the way, Fiona appears, the armadillo shocked about her presuming dead. The fox replies that she was able to get out herself without Sonic's or Mighty's help. Nic breaks up the argument, and tells them to settle their differences another time. She then scolds Fiona over her edginess, and the fox apologizes immediately. Once they reached an abandoned Robotnik labor camp, Mighty thought that they were reunited with Sonic, Tails, and Sally. Fiona replies that they are replica created by Robotnik. Nic then asks the armadillo to open a vault door.
Since then, Fiona and Nic have teamed up for different heists, though most of the treasure they find has already been taken by Rouge. The one panel in the main Sonic the Hedgehog comics, issue 165, references to one of their incidents. Rouge was being interrogated by Knuckles and the Chaotix. Vector presents the bat with information about beating Fiona (Nic can be seen beside her) "in every treasure ancient and illegal".
Both had no other meetings even when the Super Genesis Wave wiped out the timeline and both characters have been erased.
Fanon
This section is in need of major improvement. Please help improve this article by editing it.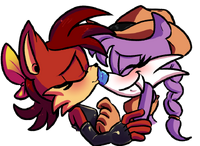 It is not as popular as other ships in the Sonic fandom. Ships involving Nic were initially rare or non-existent. Those who do ship them believe this had a lot of potential. The only known rival ship currently, Saliona (Sally×Fiona), exceeds this in terms of popularity.
Fandom
DEVIANT ART
Fionic tag on DeviantArt