THIS PAGE NEEDS UPDATING
This article needs to be updated. There is plenty of content, but there is some missing. Specifically from Seasons 2-5x02. Please help Shipping Wiki by
adding content to it
. Once all content has been updated, this template can be removed.
❝
You make me a better hero

—Kara
Karolsen is the het ship between Kara and James from the Supergirl fandom.
Canon
Kara meets James on his first day as the Art Director at CatCo Worldwide Media. It's love at first sight for Kara when she sees him and she stumbles on her words in his presence. He, in turn, flirts a little with her but more than that they have an instant, true connection. Not seeing Clark very often, Kara is mesmerized by James' first photo of Superman, which he gives to her as a present. After saving Alex's life, Kara starts her life with a secret identity, all the while fielding the criticism that comes with that from media and Alex herself. Amidst all this, James is supportive of Supergirl and finally, cheekily reveals to Kara that he knows she is Supergirl. They meet on the roof and James tells her that Clark asked him to have his new beginning in National City, so that he may guide Kara from time to time.
"Now, don't you have a city to protect? You know - up, up and away?"
— James[2]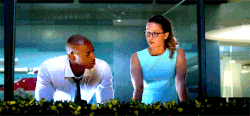 As the criticism of Supergirl's inexperience intensifies, Ms. Grant's inclination to course-correct her Supergirl narrative includes a threat to James that he's fired if he doesn't get Grant an interview with Supergirl. Kara introduces Winn and James, in an effort to show National City that she is a capable hero, by having them help her with 'smaller' crises than airplane saves. James tells Kara that he wanted to move away from being defined by his association with Superman, and Kara tells him the beauty of her family motto — that everyone is stronger together and that is how she views Supergirl: as a team effort. She agrees to do the interview with Ms. Grant, to help James out but also to stand up for their cause.[3]
James runs into Kara and Alex at a café and Kara introduces them. Alex immediately notices Kara's feelings for James, which Kara denies. Supergirl fights Reactron but almost loses when Clark shows up to save her. Kara's frustrated when she wakes up in her apartment a few hours later and James admits to her that he has a device to summon Clark should danger arise. Kara feels like James doesn't believe in her and asks him to leave. At Cat Grant's party to launch her Supergirl exclusive, Kara and Winn dance when James asks to cut in and he explains to Kara that him calling Clark wasn't about her — it's about him. James became too reliant on calling on Clark and he got scared he would lose Kara. He tells Kara with awe in his voice that he thinks she's amazing and fearless.[4]
Before Kara can tell him how she feels, James' ex Lucy Lane rolls into town from Metropolis and they rekindle their romance, as Kara doesn't wish to stand in the way of James being happy. While James is hesitant about dating Lucy again, they do get back together and have a good thing for a while, until Lucy starts feeling that James is not invested in the relationship. After talking with Kara, Lucy realizes that James doesn't let her in and she breaks up with him for good, also well aware that James returns Kara's feelings for him.
Moments
Season 5
Event Horizon
Kara and James smile at each other as James talks to the other reporters.
Quotes
❝
You're smiling with your eyes. Like you are now.

—James gifting Kara a photo he took of her[5]
Kara – "Alright, I admit it. I was wrong about Guardian. I'm really glad he was there to help you Alex."
James – "Well I hate to say "I told you so," but…"
Kara – "No, you love to say 'I told you so'."
James – "I do."
— Cute
James – "I never imagined going into politics."
Kara – "Are you kidding me? We would all be lucky to have you in Washington."
— Stranger Beside Me
Kara – "And what are we gonna do without you?"
James – "One of the main reasons I moved to National City was because Clark wanted me to keep an eye on you. But you're the one that kept an eye on me. You never needed me. Not then, and certainly not now."
— In Plain Sight
Nia – "I can't believe James is really gone. I guess part of me always thought he'd come back."
Kara – "I know. But I'm happy for him. He deserves this."
— Nia and Kara talking about James' leaving, In Plain Sight
Fanon
Kara and James is a common pairing in the universe. They were set up to be the romantic stronghold throughout the first season and were well-received. Fans were outraged when their relationship, which began in the final episode of Season 1, was completely negated in the first episode of Season 2: Kara says they're better off as friends and she needs to work on her identity as Kara Danvers and herself. What really happened was the introduction of Mon-El. He became Kara's new love interest, while James was largely shoved into the background. In spite of this their friendship has stayed strong throughout seasons 2 and 3, with reasonable conflicts, albeit with extremely diminished screentime together. Fans are still angry that the pairing was dismissed and never got a chance to even unfold.
Fandom
FAN FICTION
Kara/James tag on AO3
TUMBLR
FORUMS
Songs
pull away | LEON BRIDGES
james and kara dance at cat's party
bloodstream | TRANSVIOLET
first kiss
Trivia
In the above producers Jessica Queller & Robert Rovner's reply when asked why Karolsen didn't happen was that both Kara and James are "noble" and they couldn't write dramatically satisfying material if the two of them got together.
Some media has criticized the unfounded move to never have Kara and James get together, just for her to get together with a new character, who is white.[6][7][8]
In the comics, James and Supergirl marry at one point.[9]
I've watched as Kara — a girl who needed her friends, who needed her job at CatCo to remain grounded — became unrecognizable. It's not just that Mon-El has done horrible things or that Kara broke up with James for, I can't even remember the stupid reason.[10]
The downgrading of James Olsen — originally the romantic male lead, now seemingly replaced by the white actor who plays Mon-El — doesn't help.[11]
Gallery
Videos
Notes and References