KiriJirou is the het ship between Eijiro Kirishima and Kyoka Jirou from the My Hero Academia fandom.
Canon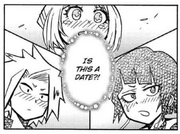 In the actual anime, Eijiro and Kyoka often spotted to talk together in the backgrounds, but there's no conversation between them when they're the spotlight on the screen. The only conversation they got when they got the spotlight is when Kyoka, Eijiro and Denki talks in Season 2. On Episode 25 in Season 2 or the Shopping Episode where Izuku meets Tomura for the 2nd time, Kyoka is spotted standing next to Eijiro. Meanwhile in the anime, Izuku and Tomura got the spotlight on the Episode 25 (With a little Ochako), in BNHA Smash, there's a bit more detail, in Smash (Chapter 45, Vol 3), shown that all of the students who go to shopping got separated because of the crowds in a group of two. Izuku and Ochako, Denki and Momo, Eijiro and Kyoka, Tenya and Minoru. After the panels of Ochako realizes that it's just two of them, Eijiro said he's glad that Kyoka is safe and then asks her to shop together with him, Denki, Ochako and Kyoka thoughts to themselves; "Is this a date?".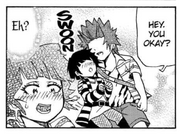 When Eijiro and Kyoka are walking, Eijiro walks in front of Kyoka. Kyoka admires his broad shoulders; "I never noticed those nice broad shoulders on Kirishima" She thoughts to herself. Due to her focusing on Eijiro's shoulders, she bumped into someone and almost fell, but Eijiro quickly saves her and asks if she okay. Kyoka blushes so hard on that scene, Eijiro points out that; "So light! Are all gals as light as you? You'd lose to Iida and Sato at a weigh-in for sure!" and Kyoka's face turned to a rather disappointed face while staring at Eijiro, thinking "They're the one's who spring to mind?" with a possibility of jealousy.
In the anime, Katsuki refuses when Eijiro asks him to go with the class to go shopping. In smash, even though Katsuki refuses, Eijiro ended up meeting Katsuki, who actually wanna go but "Not with any of you dorks" he said. Kyoka tries to ask Eijiro (While blushing) "H-hey, Kirishima. What do you think of my manicure?" only to see Eijiro wants to hang out with Katsuki, trying to ditch Kyoka. So, Kyoka give Eijiro silent treatment for 3 days and Eijiro couldn't figure out why. In the end of the shopping, after all of them meet again on the statue (Katsuki isn't there), Kyoka, Ochako, Denki and Minoru's face is gloomy meanwhile the others (Eijiro, Momo, Izuku and Tenya)'s looking very fulfilled. In the Smash, there's no Izuku meeting Tomura.
Fanon
KiriJirou is a rarepair in the My Hero Academia fandom. Mostly due to to Kyoka and Eijiro rarely interacting that often onscreen together. Even though Eijiro is one of the people Kyoka ever blushes around with.
Fandom
FAN FICTION

Kyoka/Eijiro tag on AO3