SPOILER WARNING!
this article may contain major plot or ending details
KiriTetsu is the slash ship between Eijiro Kirishima and Tetsutetsu Tetsutetsu from the My Hero Academia fandom.
Canon
Tetsutetsu has gain a strong dislike towards the Class 1-A due to Katsuki ignores him and being arrogant when the students gather in front of Class 1-A. After Shoto froze the big 0-Pointer robots in the Sport Festival, he runs and when the others want to follow him, he said internally that he wouldn't recommend it since the ice isn't that strong, so it might collapse every moment. And he was right, the robot collapsed, crashing and burying Eijiro below it. Eijiro punches the robot and breaks free, saying that if it's not him, the person who got buried might've died! But Tetsutetsu broke free from there too, he said the same thing while looking at Eijiro and that's where they really first meeting each other. Eijiro, with tearful eyes run to follow Shoto with Tetsutetsu also catching up, Eijiro protested and stating out the fact that their quirks are basically the same, and questions how he supposed to stand out now with a disappointed but loud voice, meanwhile Tetsutetsu just scream at him cursing and call him a copycat.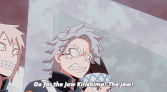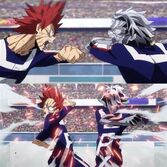 When Eijiro and Tetsutetsu fighting in Round One (Match 7th), Present Mic have them similar intro's before the fight; "Manly and passionate steel" for Tetsutetsu and "Manly and passionate hardening" for Eijiro. Eijiro expresses that he resented being constantly compared to Tetsutetsu, and with tearful eyes he said "Even our intros are the same?!". Their fight are basically the two just throwing punches at each other and receiving the other's punch while hardening their skins. They both fell unconscious, when Present Mic want to declare the winners, they fell draw instead due to them both being unconscious. One of the audiences talks to the one next to them about how they like passionate guys like the two, and said that they're inspiring. They would love to have a sidekick like that, they say while the talking partner nods agreeing to their words. They do a rematch by arm wrestling, which Eijiro wins and move to the next round, fighting against Katsuki. Tetsutetsu loses because he didn't eat enough steels, so his hands become weaker. Afterwards, Eijiro offers his hand to Tetsutetsu and commends him for putting up a great fight. They shake hands, and Midnight is aroused by their sportsmanship. Tetsutetsu cheered for Eijiro throughout the whole battle between Eijiro and Katsuki, because he and Eijiro are now friends and he have a strong dislike towards Katsuki. His cheers made that even Juzo pointed out that they became "Yesterday's enemy is today's friend" after Tetsutetsu shouts at Eijiro to aim at Katsuki's jaw.
The two ended up interning together at Fourth Kind's Hero Agency on their internships. They were initially surprised to see each other, but instead of lamenting about comparisons, they friendly greeted each other. After the Joint Training Battle, where Eijiro played a very poor role while Tetsu was outstanding, Tetsutetsu criticizes Eijiro for presenting a defeatist attitude in front of him when comparing their fights during their respective battles, especially for comparing their respective Quirk. Although in a somewhat rough way, Tetsutetsu cheers up Eijiro, telling him that Hardening and Steel are different Quirks with their own strengths and weaknesses, and reminds Eijiro that his Quirk becomes tougher and tougher when he gets beat, without having a limit as to its hardness. These words make Eijiro recover his mood.
Quotes
Eijiro – "Our quirks are basically the same! How am I supposed to stand out now?!"
Tetsutetsu – "You damned copycat!"
— Eijiro and Tetsutetsu when they first met and finding out that their quirks are similar
Fanon
This section is in need of major improvement. Please help improve this article by editing it.
The fandom enjoys their relationship, but most of them prefers KiriTetsu as a platonic friendship, they often got featured in KiriBaku/TetsuKendo fanfics as friends.
KiriTetsu Day
The day of the ship are also their birthdays, that are 1st January
Fandom
FANFICTION
TUMBLR
ART
Trivia
The OST Cavalry Battle (騎馬戦 Kibasen) in Disc One are made for Eijiro and Tetsutetsu's fight, and their fight is the only fight that got an OST in the Sports Festival
The two shares the same birthday, in January 1st
Videos
Gallery
Anime
GIF