THIS PAGE NEEDS UPDATING
This article needs to be updated. There is plenty of content, but there is some missing. Specifically from True Cross Academy arc, Training Camp arc, Impure King Revival arc, True Cross Academy arc, True Cross Academy Festival arc, Illuminati arc, Exorcist Exam arc, Aomori arc and Blue Night Investigation arc. Please help Shipping Wiki by
adding content to it
. Once all content has been updated, this template can be removed.
The following article is based on a subject that has no agreed upon name; the current title is merely a placeholder and is subject to change. DO NOT HESITATE TO ADD THE PROPER NAME IF AVAILABLE.
Kyoto Trio is the poly ship between Ryuji Suguro, Renzo Shima and Konekomaru Miwa from the Blue Exorcist fandom.
Canon
This section is in need of major improvement. Please help improve this article by editing it.
Ryuji Suguro, who commonly goes by "Bon", Renzo Shima and Konekomaru Miwa, who both prefer to go by their late names, have known each other since they were children who are also members of the Myōō Dharani, that each one of their families have served since it was founded by the monk Fukaku. When both Bon and Shima were babies, while Konekomaru was still in his mother's belly, their temple became one of the many places to be struck during the Blue Night when Satan went on a rampage. Bon's grandfather, Renzo's oldest brother and both of Konekomaru's parents were four of its many victims, but Konekomaru manged to survive Satan's attack on their temple and after he was born, both Bon and Renzo's families took him in and raised him beside the temple's other children. Because of what happened to their temple, people tended to keep their distance from it. One day when the older Shima brothers were walking the trio home from school, Juzo Shima tells Renzo and Konekomaru that both of their families have served the Suguro family and that it is their duty to protect Bon, as he is the their temple's heir. Bon, however, wanted to be the protector than the protective, and to become the Pivot to their temple he began to work hard so he can be stronger than Renzo and Konekomaru.
When the three became teenagers, Bon decides to attend True Cross Academy's Cram School and takes Shima and Miwa, so all three of them can become exorcist in order to restore their fallen temple. Along with gaining the strength and skills that would allow them to face Satan, even though that last part is mainly Bon's personal goal he knew that his friends will stand beside him when he gets his chance. Before they left for True Cross, however, Renzo was approached by people from the Illuminati who want him to serve as their spy, the same with True Cross when Mephisto Pheles asked the Shima family to allow their youngest to serve as their double agent. Renzo agrees to the task, but keeps both Bon and Konekomaru in the dark about it for the sake of his task. Renzo was also given his father's staff, so he could use it to protect both Bon and Konekomaru.
During their shared time in Cram School, both Shima and Miwa noticed that Bon has grown as strong dislike towards Rin Okumura, while they try to tell their friend that getting on with Rin isn't worth it. When they got their exam results in Yukio Okumura's class, Bon decides to tell Rin off for failing to keep his grades up which results in the two fighting with each other, while Shima and Miwa pull their friend away from Rin. When the trio's path crossed with Rin and Shimei's, before their P.E. lesson, Rin tells Bon that him having Shima and Miwa contently by his side makes them look like his flunkies, which causes Shima to laugh as Rin did have a point while Bon wasn't happy with Rin's words towards them or that Shima is agreeing with Okumura. After both Rin and Bon got in trouble during class and their teacher went to have a word with Bon, Shima and Miwa explain Bon's gaol to Rin and has had driven him to it, in hopes that Rin will act a bit more understanding around their friend. Bon didn't like the fact that they told Rin his goal, but after Rin saves his life from a Reaper Bon decides to take his friends' advice about not getting on with Rin, which pleases Shima and Miwa when their friend stared to act nice towards Rin.
The trio continue to work hard in their classes and during their first Magic Circles and Seals lesson, the three were upset that either of them got a familiar from their demon summoning circles. Shima, however, had inherited his late brother's familiar but had also kept that fact from Bon Miwa as well. After class it was time for them to start training camp with the rest of their classmates. Shima wasn't happy about the location possibly having bugs in it, but both Bon and Miwa tell him to not let his bug phobia get the better of him.
Fanon
This section is in need of major improvement. Please help improve this article by editing it.
The Kyoto Trio is one of the main poly-friendship ships of the Blue Exorcist fandom, involving the three male Exwires from Kyoto, who have known each other since they were children.
Fandom
FAN FICTION
Bon & Shima & Miwa tag on AO3
Bon/Shima/Miwa tag on FanFiction.net
TUMBLR
Kyoto Trio posts on Tumblr
Trivia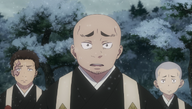 Their fathers, Tatsuma Suguro, Yaozo Shima and Nekosuke Miwa, are considered to the Kyoto Trio before Bon, Renzo and Konekomaru.
The second season of the Blue Exorcist anime shows moments of their shared childhood.

Along with the three being on one of its DVD volume covers.

Each one of their has their own manga volume cover, that are next to each other in volumes 5 to 7.
Gallery
Community content is available under
CC-BY-SA
unless otherwise noted.