Jurassic World: Dominion Dominates Fandom Wikis - The Loop
Play Sound
SPOILER WARNING!
this article may contain major plot or ending details
Leonaegi is the slash ship between Leon Kuwata and Makoto Naegi from the Danganronpa fandom.
Canon
The two share minimal interaction with each other, due to Leon's early death. Most of their interaction occurs during the first Class Trial in Chapter 1, where Makoto exposes Leon as the Blackened.
Leon is one of the Ultimate students who Makoto talks about during the start of the prologue, describing him as a cleanup hitter who professional teams already have their eyes on. Upon meeting in the main hall, Makoto is surprised to see that Leon's appearance differs greatly from a picture that he saw of him online. Leon is embarrassed when Makoto brings this up, and reveals that he actually doesn't care about baseball, and abandoned the sport to pursue a career in music. This comes as a shock to Makoto, who wasn't expecting to hear something like that from a baseball all-star.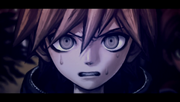 During the first chapter, Makoto gets blamed for the murder of Sayaka Maizono, after her corpse was found inside his room. During the Class Trial, Leon insists that Makoto is guilty, and that no amount of discussion will change that conclusion. However, Makoto manages to prove his innocence, and unveils evidence that points to Leon being the culprit. Leon is angered by the accusation, and attempts to refute Makoto's points, but fails. Leon eventually loses his cool, and begins hurling insults at Makoto, who remains undeterred. Even after Leon is revealed to be the culprit, Makoto defends him by shifting the blame to Monokuma, as it was his actions that forced Leon and Sayaka to resort to murder. During Leon's execution, Makoto can be seen watching in horror, along with the rest of the students. After the execution is over, Makoto gets confronted by Kyoko Kirigiri, who tells him that he's the kind of person who can overcome the deaths of his friends. However, Makoto rejects Kyoko's statement, and claims that he'll hold onto the memories of both Leon and Sayaka for the rest of his life.
During Leon's Free Time Events, he talks to Makoto about his dissatisfaction with baseball, and his dream of becoming a musician in greater detail. During Leon's final Free Time Event, he invites Makoto to his room, and says that the two of them should play baseball, before saying he was just kidding. However, Makoto asks Leon if he really does want to start playing baseball again, and Leon admits that being away from the game for so long made him change his mind. Leon then says that he plans on dropping out of Hope's Peak and returning to his old school, so he can beg his old team to let him play with them again. Makoto says that they would be happy to have him back, as long as he shows them that he's willing to practice, which Leon refuses to do. Even though he doesn't think Leon learned his lesson, Makoto finds it impossible to dislike him, and believes that the two of them have come to understand each other a lot better.
The two briefly interact with each other during one event in Ultimate Talent Development Plan. During the sports festival, Leon instructs Makoto to play forward and score some goals while he plays defense. Makoto does not appear confident in Leon's plan, and asks him if that's really his entire strategy. Leon tells him to calm down, and that defeat is inevitable for their team anyways. Even so, Makoto tries his hardest, and they manage to win the game.
Quotes
"He's never practiced, and he was still his team's star player? He's some kind of prodigy..."
— Makoto astounded by Leon's skills.
"Okay, so the murder weapon was a kitchen knife. But where does that get us? I mean, we all know Makoto killed her, right!?"
— Leon blaming Makoto for Sayaka's murder.
"D-Do you have any idea how stupid you sound right now!?"
— Leon telling Makoto he sounds stupid.
"Say what you want, Leon. But all the questions have been answered, and the truth has been revealed. Now here's what happened...!"
— Makoto about to deliver the closing argument proving Leon's guilt.
"Isn't that right...Leon!?"
— Makoto to Leon after delivering the closing argument.
"I refuse to acknowledge you! You're stupid! Stupid stupid stupid! Stupidstupidstupidstupidstupidstupidstupid!!!"
— Leon calling Makoto stupid.
"Leon, did you really... ...kill Sayaka?"
— Makoto asking Leon if he really killed Sayaka.
"Move past their deaths? I could never do that. No... I'm going to carry them with me the rest of my life. How could I possibly "move past" something like that? Leon...Sayaka... I'll carry them with me forever. I'll carry their memories with me wherever I go!"
— Makoto refusing to forget about both Leon and Sayaka after their deaths.
Fanon
Leonaegi mainly sailed because of the potential bromance between the characters, and was further fueled by their interactions during Leon's Free Time Events. Although the ship is fairly popular in the fandom, some oppose it due to Leon acting antagonistic towards Makoto during the first chapter, where he tried to make him take the fall for his own murder. For some fans, this is remedied by the fact that even though Leon showed a lot of resentment towards Makoto for exposing him as the Blackened, Makoto was not mad at Leon for killing Sayaka, and instead felt bad for him and sympathized with him. The ship is especially popular on Leon's side, with its main rival being Leosaya. However, the ship is less popular on Makoto's side, losing to Naegami, Naegiri, Naekusaba, Naezono, etc.
Fandom
FAN FICTION
DEVIANTART
INSTAGRAM
TUMBLR
WIKI
Trivia
In Danganronpa 2: Goodbye Despair, Makoto used "11037" as the number code to save the remaining students of the Killing School Trip. This number reflects Sayaka's dying message, and when flipped upside down, reads "LEON."
Gallery
Danganronpa: The Animation
Variations