Jurassic World: Dominion Dominates Fandom Wikis - The Loop
Play Sound
Mondo Butter is the cargoship between Mondo Owada and Butter from the Danganronpa fandom.
Canon
Mondo was never shown eating butter or talking about it in canon. Nevertheless, after killing Chihiro Fujisaki in a moment of rage caused by some sort of jealousy, he got executed by Monokuma. At the end of the execution, he turned into a butter which was stored inside a container in which Mondo is seen "promoting" the product.
The process in which Mondo became a butter was that in his execution it would show Mondo being strapped to motorcycle, spinning round and round inside a cage, which was named The Cage of Death. At the end of the execution, a machine pops. A moment later, it shows Mondo already turned into a butter inside a container, then being eaten later by Monokuma along with some pancakes accompanied with honey and coffee (which is revealed at the end of Chapter 2).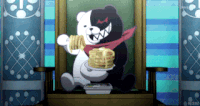 In the anime adaptation, during the third Class Trial, Monokuma is shown eating pancakes with Mondo Butter again, which is seen for a few moments.
In eleventh episode of Future Arc, Mondo is seen resembling liquid butter, with his coat lying upon it, while accompanied with all the deceased students of Class 78, morphed into how they looked when they died in the Killing School Life, shown inside Makoto's hallucination.
Fanon
It is one of the most popular cargo ships around the Danganronpa franchise, though not as popular as other cargo ships like Hinata x Orange Juice or Seesaw Effect. It became popular after Mondo's execution, in which it revealed him in a butter container. People then started making memes about it, in some of which Kiyotaka Ishimaru could be included, like in this image which shows Ishimaru being "fed" by the spectator with Mondo's butter while crying over his death. The image immediately became popular amongst fans which made similar versions of it like this other image. People would name this ship "Mondo Butter", since that after his execution, his butter container was called like that.
Nevertheless, similarly to other cargo ships, such as Kirinoodle or Aoi x Donuts; the ship is overshadowed by other much more popular ships, like Ishimondo and Chimondo in this case.
Fandom
TUMBLR
Mondo Butter posts on Tumblr