Ounaga is the het ship between Angie Yonaga and Kokichi Oma from the Danganronpa fandom.
Canon
When Kokichi cries and appears scared at one point, Angie comforts him by telling him about Atua, the god of the island. Kokichi then appears to calm down immediately, but it's likely that he was just acting and messing with her. After Angie's student council is formed, Kokichi is shown to dislike it and the brainwashing quite a lot, even having a few genuinely angry reactions as he furiously shouted 'oh come on' when he saw how quickly the students succumbed to brainwashing. More or less jokingly, he proclaimed that the rest of the students should have a war against the student council. Also, the both of them have consistent emotions towards each other during the Killing Game. Kokichi and Angie never stated how they actually feel to each other, because they always cover it up with a simple smile.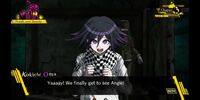 Later after Angie's body discovery, Kokichi, Shuichi Saihara, Himiko Yumeno, Tenko Chabashira, and Korekiyo Shinguji were going to perform the seance Korekiyo suggested. The seance they performed is called The Caged Child. This seance was "supposedly" meant to bring Angie's ghost to possess a certain person, so everyone could speak to Angie again. During the preperation of the seance, Kokichi said that he was excited to see Angie. This may or may not be a lie coming from him.
What's similar about the two, there is a lot of information provided in the game from Free Time Events. Kokichi used to be known for drawing as seen as in his room, little sketches could be made easily by him. This information is similar to Angie's talent, the Ultimate Artist. As shown in their Free Time Events, they both like these gifts: 002. Boba Tea, 005. Non-Alcoholic Drink of Immortality, 009. Astro Cake, 010. Bubble Gum Bomb, 014. Rock Hard Ice Cream, 017. Gyoza In the Shape of a Face, 031. Ladybug Brooch, 036. Feelings of Ham, 067. Proxilingual Device, 069. Potted Banyan Tree, 071. Dancing Haniwa, 086. Pillow of Admiration, 088. Monkey's Paw, 103. Perfect Laser Gun. This proves that they have similarities and likings of similar gifts they receive. They also have similar reactions when you give them gifts in their Free Time Events. In conclusion, Angie and Kokichi have a good amount of similarities.
Fanon
Fans ship the two mostly because of both being the major antagonistic manipulators of V3 cast. Them being a "Foil character" to each other in that regard also helped; with Angie hiding behind passive aggressive, cheerful persona and expressing her ideas through her god Atua, and Kokichi being a compulsive liar and hiding behind a villainous persona. Additionally, it is seen that Kokichi and Angie both take a liking or hang out around the same characters such as Himiko, Shuichi, Gonta, Tenko. Some fans of this ship tend to take notice of this. They are also shipped because of Angie comforting Kokichi.
Also, this ship is shipped platonically, or as friendship instead of romantically. A lot of fans frequently ship this as a platonic ship because of no romantic connection between the two, and their childish nature. To add, fans ship this as a platonic ship also from the fact of their one-sided rivalry and contrasting colors. Both of them have also tried to end or ease the pain of the killing game, which a lot of people have noticed. Therefore, this ship could be shipped romantically or platonically according to the fans of the game.
However, Kokichi only pretending to be on Angie's side caused many fans to abandon this ship. Kokichi's dislike for Angie's student council made for another reason for people to abandon this ship. However, because the two rarely interact in canon and because the ship is mostly based on the similarities and differences in their personality and strategy towards the game, it's only a minor ship. It greatly loses in popularity to both characters' main ships, such as Saiouma or Oumota for Kokichi, or Yonameno or Tenkangie for Angie. In spite of being a rather minor ship, it still has a fair number of fanfictions written about them.
Fandom
FAN FICTION
Oma Kokichi & Yonaga Angie tag on AO3
Oma Kokichi/Yonaga Angie tag on AO3
WIKI
Gallery
Official
Songs
Heaven 2 Hell by Black Gryph0n & Baasik Feat. Elsie Lovelock