Tailiona is the het ship between Tails and Fiona from the Sonic the Hedgehog fandom.
Canon
This section is in need of major improvement. Please help improve this article by editing it.
Long before meeting the real Fiona, Tails had a romantic relationship with a robotic copy of a younger Fiona called Auto-Fiona. This, however, was a trap set by Dr. Robotnik and Tails was sad to find out Auto-Fiona was a robot.
Tails and Fiona are seen participating in the defense of Mobius against the Xorda invasion in issue 125. On one occasion, the two-tailed fox saves her from a laser fired by the Quantum Dial. Both were seen in the memorial after Sonic's apparent death.
Even after Fiona joined the Freedom Fighters, Tails had a crush on her. She didn't return the feelings, as she was only interested in Sonic.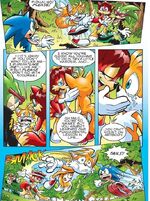 When it is revealed that Fiona was in a relationship with Scourge, Tails begs her to not go with the green hedgehog. She appreciates the two-tailed fox's goodness but mocks his trustworthiness on others. Immediately, she slaps him in front of the two hedgehogs. Tails then asks Sonic to "just get 'em". Sonic tries to reason with Scourge about selflessness, but Fiona kicks the blue hedgehog and taunts him for being weak. Immediately, Amy tells the red fox to "shut up already", but Fiona dodges her hammer pound. Tails says that he can't hurt the red fox, but does not care about Scourge anyway. As the pink hedgehog prepares to continue her fight with Fiona, Scourge tells the red fox that he had his fun and both leave the scene through a Warp Ring.
Her betrayal indirectly caused Tails and Sonic to fight since Tails' father was in prison for rebelling against the Acorn King. Sonic first thought that Tails was defending his parents, which was true at first, until Tails revealed that he was still upset that Sonic 'took' Fiona away from him. Sonic then explained why he did, ever since his break-up with Sally and so Tails could get over her.
As Tails, Sonic, Sally, and Monkey Khan were on a journey to unite the four kingdoms into turning against Regina, they were confronted by Fiona and the Destructix. After the red fox teases Tails, Sally punches her in the stomach. After reasoning with them, they all go to the Iron Fortress to deal with the ruler there. Eventually, Tails got over his obsession with the red fox.
Fanon
This section is in need of major improvement. Please help improve this article by editing it.
Despite the canonical relationship becoming sour, this pairing has some following. Rival ships within the Archie comics fandom include Tailina, Tailicole, Soniona, and Scourgiona.
One motivation for this ship is the relationship between the same species (i.e. fox-to-fox), something that is already done with Sonic and Amy (hedgehog-to-hedgehog), or Knuckles with Julie-Su, Tikal, or Shade (all echidna-to-echidna).
A 4-part comic by Chauvels provides an example of a reformed Fiona trying to reconcile with Tails (in Sonic Boom-like attire), even to the point of having a meaningful relationship. Chauvels, a Tailiona fan herself, has also made art of this pairing and is a contributor of a fan club that was set up on late 2009. One of these fan art is Fiona doing the funny kiss on Tails and the latter collapsing, which is inspired by two episodes of the Sonic the Hedgehog television series.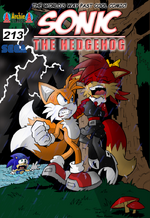 A fan-made cover for a fan comic, by Wankers-Cramp shows an enraged Tails brutally beating up Fiona in revenge during a downpour, to the point of Fiona crying and bleeding, with Sonic (while trying not to drown in water) in the background, trying to convince the two-tailed fox not to kill the red vixen. Some comments from deviants say this cover is comparable to a Mortal Kombat finishing move, while others simply post a small fan-fiction or made-up script based on it.
AzureBlueWorld is another fan of Tailiona. However, most of the Tailiona artworks on his page show them as just friends instead of as lovers.
Fandom
FAN FICTION
Fiona/Tails tag on AO3
DEVIANTART
taiona tag on DeviantArt
tailsxfiona tag on DeviantArt
TailsxFionaclub fanclub on DeviantArt
Gallery