The following article is based on a subject that has no agreed upon name; the current title is merely a placeholder and is subject to change. DO NOT HESITATE TO ADD THE PROPER NAME IF AVAILABLE.
Tommy x Shirt is the cargo ship between TommyInnit and raglan shirts from the Dream SMP fandom.
Canon
Tommy's red and white shirt is shown on his Youtooz figure. Tommy does not have official merchandise yet, though it had been speculated that his merch may be related to his red and white shirt if merch is ever announced. On Tommy's VODs channel, his profile picture is currently art of him wearing the red and white shirt. Art selected for the thumbnails of his VODs on YouTube normally have his red and white shirt. On Tommy's main YouTube channel, there are less thumbnails of him wearing the red and white shirt, though there are a some.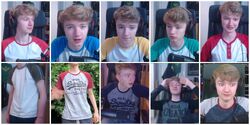 While Tommy is normally seen with a plain red and white raglan shirt, it has been shown that Tommy has other raglan shirts. He has been seen with blue, yellow, green, grey and other raglan shirts. In Tommy's vlog at a water park, it was revealed that Tommy owns a "swimming edition" of the red and white t-shirt. Following the reveal, Tommy commented on how itchy the shirt was and how he wanted to get wet. Realizing how that comment could sound, Tommy laughed about it with Jack Manifold.
Dream SMP
Tommy's Minecraft skin often shows him wearing his red and white shirt and he rarely changes his skin to not have it. During Tommy's second exile, his shirt is slowly ripped as his character's mental health worsens. Instances of when Tommy changes his skin out of his red and white shirt are when he wears the L'Manberg uniform or a business suit. These instances don't happen often though due to L'Manberg's destruction and the fact that the business suit isn't often worn.
Fanon
While many jokes are made about Tommy and his shirt, the cargoship isn't as popular as Tommy x Coke or others like Philza x Samsung Smart Refrigerator and Wilbur x Brown M&M. As Tommy is uncomfortable with being shipped with people, there aren't any ships with people that can rival Tommy x Shirt. People, namely TommyInnit fans or "inniters", often refer to red and white raglan shirts as "TommyInnit shirts". Fan art of Tommy often shows him wearing the red and white shirt or something similar. While some people sometimes change Tommy's shirt to a long sleeve shirt or a hoodie, the red and white color scheme often remains.
Fandom
TWITTER
TommyInnit Shirt posts on Twitter
Gallery