Doctor Strange in The Multiverse o Madness - The Loop
Play Sound
Toph Beifong is a character from the Avatar: The Last Airbender fandom.
Character
Toph is the daughter of Lao and Poppy Beifong and is from a wealthy family. Toph is a blind earthbender who can see with her feet and the inventor of metalbending. She is also the mother of Lin Beifong and Suyin Beifong and the former chief of police in Republic City.
Ships
Haroph

— the ship between Toph and

Haru

Satoph — the ship between Toph and

Satoru

Teoph

— the ship between Toph and

Teo

The Doph — the ship between Toph and

The Duke
Tophuki — the ship between Toph and

Suki
Sukkoph

— the ship between Toph ,

Suki

, and Sokka

The Gaang

— the ship between every member of Team Avatar
Solid Ground

— the ship between Toph and the Earth
Canon
Sokka
Main article: Tokka
Sokka is Toph's first known crush. She developed a crush on him by the time that they were in the Serpent's Pass. Toph kissed Suki while she was in her arms while she thought that she was kissing Sokka. At one point, Sokka left the group to train and when he came back, Toph said that she didn't care that he was gone before turning away and blushing. Sokka ended up dating Suki so Toph understandably backed away.
Satoru
Main article: Satoph
Toph developed a crush on Satoru soon after she met him. Satoru was impressed with Toph who in turn was pleased to strike a partnership with him. The two struck a partnership between the Earthen Fire Refinery that Satoru was working at and the metalbending academy that Toph was running. When Aang complained about Satoru and Loban occupying sacred Air Nomad land, Toph quickly came to his defense. Aang complained that Toph was blinded by her feelings for Satoru.
Kanto
At one point, Toph was romantically involved with a man named Kanto. Not much is known about him because he was only mentioned. It is unknown if Toph was married to him, dating him or just involved with him. They had a child named Lin. The two split apart before Lin was even old enough to remember Kanto. Toph explained that Kanto was a nice man, though their relationship did not work. Toph would not tell Lin about Kanto until she was over fifty years old.
Suyin's father
At one point, Toph was romantically involved with a man who is unnamed. Together they had a daughter named Suyin Beifong, who then had five children of her own.
Children
Lin Beifong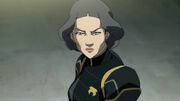 Lin is Toph's first daughter and the current chief of police in Republic City. She is an earthbender and metalbender. Lin is very serious and is cold to many. Her relationship with Toph was strained for a long time due to the fact that she arrested Su while they were young. This caused Lin to not speak to Toph for over twenty years. They eventually helped each other rescue Su and her family from Kuvira and reconciled after that.
Suyin Beifong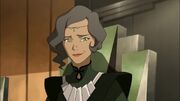 Suyin is Toph's second daughter with a different father than Lin. Like her mother and sister, Su is an earthbender and metalbender. She was originally a criminal working for the Terra Triad and Toph was disappointed in her. Toph eventually had to send Su away from Republic City to live with her grandparents to avoid her staying in jail. She eventually founded the Metal Clan of Zaofu and got married. Su had five children and eventually patched things up with her mother. Toph was proud of Su for her accomplishment with the Metal Clan.
Fanon
Toph is one of the most popular characters in the Avatar fandom. A lot of fans find her to be bad ass and think of her as the best earthbender seen in both series. A lot of fans hoped that she would be alive in the Legend of Korra and were excited when she finally made an appearance. When it was revealed that Toph had children, a lot fans began to speculate who the father might be and many were excited to see that Toph ended up with somebody after all.
Fandom
FAN FICTION
Toph Beifong tag on AO3
Toph Beifong (LoK) tag on FanFiction.net
TUMBLR
WIKIS
List
Trivia
Toph was originally supposed to be a male.