"I'm really glad you're the person I got marry, Loid!"
— Yor to Loid in Mission 14
TwiYor is the het ship between Loid Forger and Yor Briar from the Spy x Family fandom.
Canon
Loid is a spy with the mission to spy on Donovan Desmond, a political leader. Since he was very reclusive, Loid had to find a way to gain access to him. So he adopted Anya because he needed a child to legitimize his interest in Eden College, the school Desmond's sons attend. Eden placed great importance on the pedigree of her pupils so Anya barely passed her exam. To make her more presentable, Loid had to buy her some clothes from a boutique, which is where he first met Yor Briar.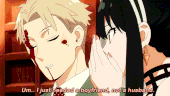 Even before she met Loid, Yor was dealing with some personal issues of her own. Since she is an assassin, she doesn't have much time for her personal life. And she promised to bring a partner to her co-worker's party. To make matters worse, her latest murder ruined her only nice dress, so she had nothing to wear to the said party. So that's when she goes to the boutique where she meets Loid. Moving with the grace of a trained assassin, Yor manages to enter the boutique. And Loid notices her presence when he called out to the seamstress. His stealth surprised him and instantly he began scanning his mental database to identify the woman who had surprised him. Yor surprised him even more when she asked him if she could help him with something of hers since he had been looking at her for a while. Loid quickly made up the excuse that he was admiring her beauty, but the fact that she could also feel his gaze on her disturbed him.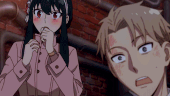 However, the one who makes their meeting worth it is Anya when she shows up. Seeing the girl call Loid "Papa" made Yor assume that he was already married, so she just descarts him as a possible fake partner in her mind. But since Anya can read minds, when she hears that Yor is an assassin, she thinks she would make a cool mother. So she says that she has no mother out loud. Yor notices this and decides to make a mutually beneficial agreement with Loid, by marrying him and pretending to be his wife, as he also pretends to be her husband so she can be safe.
The only problem is that the two still haven't figured out each other's occupations, but are slowly beginning to understand that neither of them is exactly what they seem.
Quotes
Loid – "I take thee, Yor... for better or for worse... for richer or poorer... in good times and in bad… in sickness and in health... I pledge myself to you, to love and to cherish… Until my missions…"
Yor – "Until my murders…"
Both – "May do us part"
—Chapter 2
Anya – "Papa and mama are gonna kiss!"
Loid – "We're not!"
Yor – "That's not true!"
—Chapter 3
Anya – "Are you gonna kiss now?"
Loid and Yor – "We're not!"
— Chapter 9
"A tennis competition with some work associates… does that include… her (Fiona)? What is that woman to Loid, exactly?"
— Yor feeling jealous in Chapter 32
"The words keep getting caught in my throat… Because I don't want to give up this life? But Yor, this isn't about you! This is about Loid finding happiness. You need to tell him that…"
— Yor thinking for Loid's happiness in Chapter 35
"All this time I've spent by your side has finally made me realize how I feel about you. Yor, I want you to be my real wi-"
— Loid trying to propose to Yor in Chapter 35
"I don't need to be at peace. I don't care if I have to bloody my hands. Even if it means living a life that could end at any moment... Even if it means having to leave the Forger family... I think Loid would respect that. He would understand. That's why I won't give up this fight!"
— Yor wants to protect the Forger family in Chapter 53
Children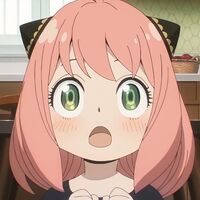 Anya Forger is the adopted daughter of Yor and Loid Forger. Anya is first introduced to Loid at an orphanage when Loid asks for a child that is capable of reading and writing. Anya becomes aware of Loid's true identity as a spy by reading his mind, and lies about her age and intelligence in order to persuade Loid into adopting her. She manipulates Yor and Loid to get together upon discovering Yor's identity as an assassin and being interested in the concept of spies and assassins. Yor and Loid both try their best to be good parents for Anya, especially Yor after the admissions interview, despite her knowing they are a fake family. Anya refers to Yor as "Mama" and Loid as "Papa".
Moments
Secret Police Arc
Loid suspects Yor married him for a plan to uncover his identity, but then figures out he was wrong.
Yor thanks Loid for his hard work, and tells him she's grateful of marrying him.

Loid notably blushes at this statement, and starts feeling guilty for doubting her.
Campbelldon Tennis Arc
Yor felt notably jealous towards Fiona after both went to the tennis competition.
Loid invites Yor to a date to clarify everything about Fiona.
Loid notices that Yor has romantic feelings for him, so he tries using his charm so that Yor understands he only wants her as her wife, proposing her to be her real one.

Yor got completely embarrassed after this, so she lost control and kicked him before he could end his proposal.

Loid misunderstood it and thought Yor was rejecting him, but she didn't kick him intentionally.

While Loid was asking her to be her real wife, he is notably bushing, implying he really wants her as her real wife.
Great Cruise Adventure Arc
Anya constantly said that she missed hanging out with Yor and Loid agreed with her, thinking that it feels a little bit empty without her.
Yor decides to keep her position as a murderer to protect her family (Yuri and the Forgers), remarking that Loid would respect her decision.
Fanon
TwiYor is the most popular ship in the Spy x Family fandom. It has 1k+ works on AO3, mostly canon compliant. The fandom generally agrees that they both make a great pair and that they have a lot of sweet interactions together. The fandom also likes the interactions between the two and Anya as a family. TwiYor got a lot more popular after the release of the Spy x Family anime. Many fans wish the couple can be canon in the future since there's no confirmation of feelings in either side, only ship bait, but they have notibly show romantical feelings for each other so quite a lot of fans don't loose their hopes to make them finally get married for real.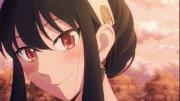 Fans also really loved that over time, their relationship changed from just working together to fulfill their own goals into a faux-marriage somewhat resembling husband and wife. Frequently, both Yor and Loid will furiously blush whenever Anya asks if they will kiss, followed by a shared denial. Many fans had noticed the moment were Loid and Yor fell in love with the other: Yor falling in love with Loid at chapter 2 after Loid defends Yor from Camila, since she starts blushing and staring at him as her eyes became brighter. On Loid's side, fans said that the moment he fell in love with her was when Loid felt completely guilty for hours ago planting a bug on Yor and didn't tell her, and later Yor confessed him she's happy that he marry him and he had a small blush (and it's very important since he barely blushes), so he stares at her with the same bright eyes Yor stared at him on chapter 2.
So the revelation of their feelings in the future can bring a lot of happiness to fans of the ship. They are mostly shipped alongside DamiAnya. It also gained more popularity when fans realized that they resemble Kaguya and Miyuki from Kaguya-sama: Love Is War and constantly joke about them being the younger version of Yor and Loid, So Kaguprez shippers as-well have taken a liking to this ship.
Fandom
FAN FICTION
ART
TUMBLR
TWITTER
WIKIS
Lists
Trivia
Twilight's past seems to be similar with Yor's as she lost her parents due to the war.
When Loid proposed to Yor, the ring he gave was a grenade's safety pin pull ring.
Yor first met when Loid went to a tailor to get Anya measured.
Gallery
Anime
Manga
Official Art