My name is Quirkster Nation! I absolutely love ships! Sometimes people call me a freak about that... Hehe... But, when I was searching around on the computer today just typing in: Izuku X Katsuki, I saw this site! I searched around on it and joined a few months after! I've been through a lot and I hope that these ships will make me fangirl so much that I have a heart attack.
Here are some of my favorite ships: 1: BakuDeku (( Of course! )) 2: Todomomo (( UwU )) 3: Foxica (( I'm such a geek )) 4: Springle. 5: Gruvia
And last but not least.......... 6: Aizawa X Mic!
              I have no hate on ships as I respect them all! Whoever made this site, I'm very thankful to have found it! My wattpad.... Poor wattpad.... I'll tell you about that some other time! Bye now!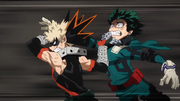 Community content is available under
CC-BY-SA
unless otherwise noted.